OS X Yosemite Public Beta Launches Tomorrow, July 24
In a coordinated release today, a number of publications have released official overviews of the latest OS X Yosemite beta build alongside word of Apple's plans to open up the public beta tomorrow, July 24. As noted by The Loop, the public beta of Yosemite will be the same build released to developers on Monday.
The public beta version of OS X Yosemite is the same version released to developers on Monday, so to start off, consumers and developers will be running the same software. However, the developer version of Yosemite will be updated more often over the next few months than the public beta version. This is so developers can continue to test their software with the latest operating system available. Consumers really don't need updates that frequently.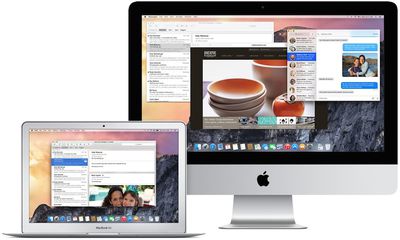 As far as the overviews designed to bring members of the public beta up to speed as the program launches, the general feeling is positive. Some note, however, that many of Yosemite's best features involve integration with iOS 8 and will be inaccessible during the public beta as the program covers only OS X. Here are a few snippets:
- Dana Wollman, Engadget
For anyone who thought OS X was getting stale, that it was evolving a little too gradually, you'll definitely want to check out Yosemite: It ushers in a new, iOS-inspired design, along with some new, iOS-like features. In my week of testing, I've found the updated look to be more visually pleasing than the previous version, yet still easy to navigate. The new features are generally welcome too, though some admittedly feel more granular than others.
- Darrell Etherington, TechCrunch
We've had some time with the pre-release build ahead of today's launch, and our time spent with the next version of Apple's desktop OS has proven one thing: Yosemite offers a host of great new features for users new to Mac and experienced Apple fans alike. Even the pre-launch build feels like a solid step-up from Mavericks, which bodes well for the finished result that should launch once Apple irons out the bugs and incorporates user feedback from its beta test program.
- Lauren Goode, Re/code
I like its new design, the small improvements in Safari and Messages, and what appear to be promising fixes in Mail. It has already made a better impression on me than Mavericks did right out of the gate. But it's also still very much a work in progress.
The official launch of OS X Yosemite to the general public will come later this year, likely in the October timeframe. The public beta program is limited to the first one million users to sign up on Apple's site.