4.7-Inch iPhone 6 Set to Begin Mass Production This Month, 5.5-Inch in August
Apple manufacturing partner Foxconn is set to begin mass production on the 4.7-inch iPhone 6 this month, according to local media cited by Reuters. The larger 5.5-inch iPhone 6 will begin production a month later, in August.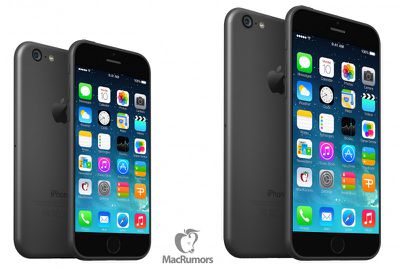 Mass production of a 4.7-inch successor to the wildly popular iPhone 5 series of smartphones will begin during the third week of July, Taiwan's Economic Daily News said, without citing sources. Production of a 5.5-inch version will begin during the second week of August, it said.
Foxconn is also set to hire around 100,000 additional workers to help meet future demand for the device, according to a Chinese state-run news agency. Fellow Apple manufacturing partner Pegatron is also ramping up hiring, recruiting over 10,000 for its own facilities to help manufacture the iPhone. Additionally, it was reported last week that Foxconn was planning on deploying 10,000 robots to help employees with less intensive tasks like tightening screws.
Apple is widely expected to announce the iPhone 6 in early September, with a release coming a couple weeks later in late September. While it's unclear whether both the 4.7- and 5.5-inch iPhone 6 models will launch at the same time, the one-month delay in mass production could mean that the 5.5-inch is either available in lower quantities at first or will be announced at the same time as the 4.7-inch model and launch shortly after. Previously, it's been rumored the 5.5-inch model had been experiencing production issues.
Other than larger displays, the iPhone 6 is expected to include a thinner, iPod touch-like design, an A8 processor, and an improved camera, potentially measuring 13 megapixels. The larger model is expected to come with a $100 price increase, optical image stabilization and greater storage capability.