Construction on Apple Campus 2 Progressing Rapidly, Walls Continue Taking Shape
Construction at Apple's Spaceship campus is continuing at a rapid pace, according to new images posted to Twitter by KCBS news and traffic reporter Ron Cervi. Cervi has been taking aerial shots of the campus to track construction progress for the last several months.
In the most recent set of images, the perimeter walls that will house the foundation of the building appears to be growing closer to completion, indicating a significant amount of construction has taken place since June, when the wall first started going up. Cervi also mentions "underground tunnels" in one tweet, referring to deep furrows in the dirt.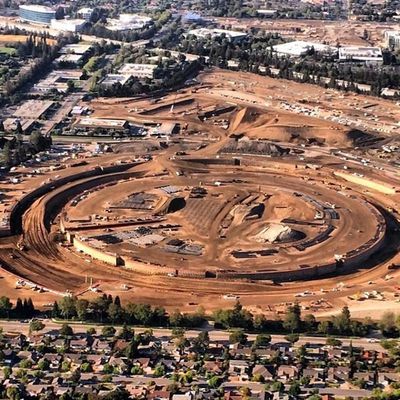 Pruneridge Avenue, the road that runs through the campus, has remained closed since last month, and traffic in Cupertino around the campus continues to be somewhat congested. Apple has closed off several sidewalks in the area and a large green privacy fence keeps the entire area hidden from view at street level.
The completed Apple campus 2, located in close proximity to the company's existing Infinite Loop campus, will feature the famous 2.8 million square foot ring-shaped main building, an underground parking facility able to accommodate 2,400 cars, a 100,000 square foot fitness center, and a 120,000 square foot auditorium.
Said to be the "most energy efficient building of its kind," Apple's new campus will be powered by 100 percent renewable energy and populated with more than 7,000 trees.
Apple hopes to finish the first phase of construction on the campus in 2016.