Apple Environmental Report: Carbon Footprint Down 3%, 145 U.S. Stores Now Using 100% Renewable Energy
Apple today released its 2014 Environmental Responsibility Report [PDF], posting the new information on its updated Environmental Initiatives website. The report, which covers fiscal 2013, highlights the progress Apple has made towards its environmental goals, which include reducing climate change by using renewable energy sources, using greener materials, and conserving "precious resources."
Apple notes that its carbon footprint from energy use has dropped by 31 percent from fiscal 2011 to fiscal 2013, even though energy consumption has increased by 44 percent. The company also recalculated its 2012 emissions and found that its overall carbon footprint shrank by three percent from 2012 to 2013, its first decline.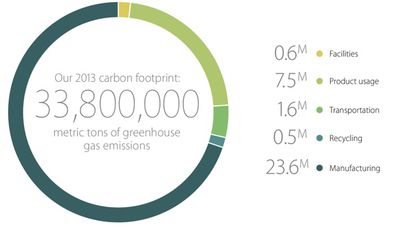 Second, while focusing on our climate data, we decided to recalculate our 2012 emissions using our newest methodology -- the same model we used to calculate our 2013 numbers. The new analysis shows that our carbon footprint actually shrank by 3 percent from 2012 to 2013. This marked the first time we've seen a year-over-year decline since we began tracking the numbers in 2009. While we're excited about this progress, we know our work is far from done.
145 of Apple's U.S. retail stores and all of its retail locations in Australia are powered using 100 percent renewable energy and energy efficiency programs implemented in its corporate offices have saved 28.5 million kWh of electricity and 751,000 therms of natural gas.
In addition, with its alternative commute programs for employees, which include a $100 transportation subsidy and biodiesel-powered buses, Apple has been able to avoid greenhouse gas emissions equivalent to 15,000 vehicles. A large section of the report is also dedicated to the company's new campus, which "will be the most energy-efficient building of its kind," powered by 100 percent renewable energy and populated with more than 7,000 trees.


The report also highlights Apple's commitment to recycling, its vow to use only clean, safe materials without harmful toxins, and its dedication to creating new products using less materials. Apple has now reached a worldwide recycling rate of 85 percent.
Apple ends the report with a list of challenges that it seeks to overcome, noting that its water consumption increased significantly in 2013 due to the work on its Apple 2 Campus. The company also cites the carbon emissions of its manufacturing partners as an area that it is "committed to addressing."
Over the course of the past eight years, Apple has managed to reduce the carbon footprint of its Mac business by 27 percent, thanks to its focus on the environment. In addition to powering many of its retail stores with renewable energy, its data centers are powered with 100 percent renewable energy, as is its existing corporate location in Cupertino thanks to a 2012 energy overhaul.
Earlier this year, in celebration of Earth Day, Apple overhauled its Environmental Responsibility website and launched a "Better" video that explains its environmentally friendly values.