Progress on Apple Campus 2 Continues as Walls Go Up
Construction at Apple's Spaceship campus continues, with the circular building beginning to take shape according to an image posted to Twitter by KCBS news and traffic reporter Ron Cervi (via 9to5Mac).
In the most recent shot, a wall has been built around the perimeter of the building, outlining where the foundation will be poured. A different tweet by @DawnMortensen notes that Pruneridge Avenue, a road that runs through the campus itself, has been permanently closed.
Street-level photographs back in December revealed several buildings still standing, but another aerial photo from February suggested a large portion of the demolition work had been completed. During construction, Apple has closed off sidewalks and built a large green privacy fence to keep the area hidden.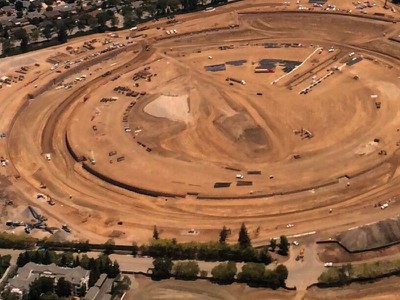 Progress on #ApplesNewHQ, a small wall around the foundation of the spaceship has sprouted. #sky1hightechtour pic.twitter.com/iM3JrIQUBH — Ron (@Sky1Ron) June 10, 2014
Cervi has been
posting a number of images
of the campus over the past few months, tracking the progress of construction. Campus 2 is expected to open in 2016.