Microsoft Working on Fitness Band Compatible With Windows, iOS
Microsoft, like Google, Apple, and Samsung, has been working on its own wrist-worn device for more than a year. While early rumors suggested the device would be a smart watch with a 1.5-inch display, a new report from Windows blogger Paul Thurrott suggests that Microsoft's project is actually more of a fitness band than a smart watch.
More akin to the band-style Samsung Gear Fit than the watch-style Galaxy Gear, Microsoft's band is said to have a wristband form factor that's able to display smart phone-based notifications. Like the offerings from Samsung and Apple's rumored iWatch, the band is expected to include several different sensors, tracking fitness metrics like calories burned, heart rate, and more.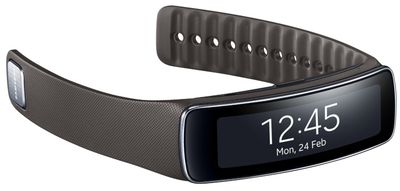 Samsung's Gear Fit
Unlike other products from Apple, Google, and Samsung, however, Microsoft is said to be designing its smart wristband to be cross platform, working not only with Windows devices, but also iOS and Android. Given Microsoft's small share of the smartphone and tablet market in comparison to Android and iOS, it's a smart move for the company.
From a differentiation standpoint, Microsoft's wearable will do something that no other wearable platform does. It will work with everything and not just the device maker's smart phone platform. Where Samsung wearables only work with Samsung phones, Android Wear devices only work with modern Android devices, and Apple's rumored iWatch will obviously only work with iPhone, Microsoft will take a different approach. It will work with Android, iPhone and Windows Phone.
According to Thurrott, Microsoft's smart wristband will be priced similarly to Samsung's smart watch offerings, which start at $199. It is expected to be released during the fourth quarter of 2014, suggesting it might launch in the same timeframe as Apple's iWatch. Currently, rumors indicate the iWatch will launch in October of 2014, with 10 different health-related sensors and wireless charging.
Pricing on Apple's iWatch remains a mystery, but rumors have pointed towards multiple sizes and designs at several different price points.