Google Following in Apple's Footsteps With Songza Purchase
Just over a month after Apple announced plans to purchase Beats Electronics and the Beats Music service, Google has made its own music purchase, acquiring streaming music service Songza.
First launched in 2007 and revamped in 2011, Songza is a curation-based music service much like Beats Music. Songza offers a multitude of customized playlists created by music experts, which revolve around different moods and activities. For example, in its iPhone app, Songza provides playlists for "Working Out," "Waking Up Happy," "Feeling Confident," and more.
Beats Music, meanwhile, boasts "in-house curators" that provide handpicked albums and playlists based on a user's personal tastes. There's also a feature called "The Sentence," which offers playlists based on location, feeling, and genre. The two services are both similar in regards to their emphasis on human curation, which is becoming a must-have feature in the streaming music arena. Beats Music's focus on curation was one of the driving factors behind Apple's purchase of the service.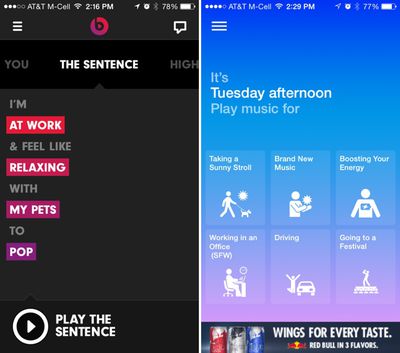 Beats Music app on the left, Songza app on the right
Apple has plans to keep Beats Music separate from its own iTunes and iTunes Radio offerings, and Google too has said that Songza will remain independent, though it has plans to integrate Songza features into Google Play Music and other Google services in the future. Both Songza and Beats Music are set to remain available on multiple platforms.
We aren't planning any immediate changes to Songza, so it will continue to work like usual for existing users. Over the coming months, we'll explore ways to bring what you love about Songza to Google Play Music. We'll also look for opportunities to bring their great work to the music experience on YouTube and other Google products.
Like Beats Music, which had 250,000 subscribers in May three months after launching, Songza is relatively small at five million users compared to competitors like iTunes Radio, Pandora, and Spotify. The major differentiating factor between the two services is cost -- Songza is free and ad-supported while Beats Music requires a monthly subscription.
The terms of the deal between Google and Songza were not disclosed, but some reports have suggested Google paid around $15 million for the service. Apple's Beats deal is still awaiting regulatory approval and is expected to close next quarter.