Beats Breakdown: Apple Paying $2.5B for Beats Electronics, $500M for Beats Music
Apple yesterday announced plans to acquire both Beats Electronics and Beats Music for a combined total of $3 billion, but a new report from The Wall Street Journal breaks those numbers down further.
As it turns out, Apple is paying slightly less than $500 million for the Beats Music streaming service, with the bulk of the money ($2.5B) going towards the purchase of Beats Electronics, which includes the company's popular line of headphones and speakers.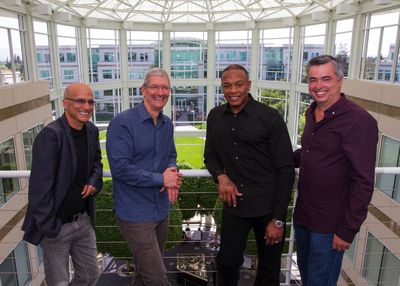 At yesterday's Code Conference, Beats co-founder Jimmy Iovine revealed that the service has 250,000 subscribers in the United States, a small number compared to Spotify's 10 million worldwide listeners. Beats Music's relatively modest size explains why it was so much cheaper than the company's Electronics division, which pulled in $1.5 billion in sales in 2013 according to a source that spoke to The Wall Street Journal.
Leveraging iTunes and iTunes Radio, Apple may be able to grow Beats Music significantly in the coming months. Apple's existing streaming music service, iTunes Radio, has a total of 40 million listeners and via iTunes, Apple has sold 35 billion songs. The company also has more than 800 million iTunes accounts, most with credit cards attached, along with a wealth of data on customer listening habits.
"We think all of those things, when you put them all together, it's on steroids with us together," said iTunes Chief Eddy Cue.
Under the terms of the deal, Beats co-founders Jimmy Iovine and Dr. Dre will both be joining Apple to work under Cue, while marketing head Phil Schiller will oversee the Beats headphone business. Apple CEO Tim Cook has called Iovine and Dre's talent and skills "really unique" and "very hard to find." He also stated that Apple felt Beats Music was the first music service to "get it right" through the use of human curation.
Following regulatory approval, Apple's purchase of Beats is expected to close during the fiscal fourth quarter.