Half of iPhone 6 Orders Expected to Go to Pegatron
Apple supplier Pegatron is expected to win a contract that will see it manufacturing half of Apple's iPhone 6 supplies, according to a report from Taiwan's Liberty Times [Google Translate] as shared by AFP. Currently, Pegatron is responsible for assembling Apple's iPad mini and iPhone 5c while main Apple supplier Foxconn manages iPhone 5s assembly.
The report does not specify which supplier will take care of the other half of iPhone 6 orders, but it is likely that responsibility will fall to Foxconn. It is also unclear how manufacturing of the iPhone 6 will be split, as it is not yet known if Apple will continue on with its bifurcated product lineup that currently includes both the flagship iPhone 5s and the mid-range iPhone 5c.
Rumors have suggested that Apple could produce two versions of the iPhone 6 in two different sizes ranging from 4.7 to 5.7 inches and likely at two different price points, keeping with its new two-phone lineup.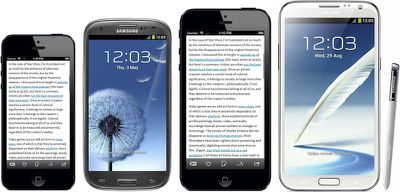 Left to right: iPhone 5, Galaxy S III, "5-inch iPhone Plus", Galaxy Note II
(Source:
Marco Arment
)
While Pegatron has long been a manufacturing partner for Apple, the Cupertino-based company
shifted
iPhone 5c production to Pegatron in 2013 in order to improve supply chain risk management, allowing Apple to expand its product lines and prevent potential supply chain disasters. Pegatron will reportedly build a new plant in Kunshan, China to keep up with demand.
In order to meet the demand, Pegatron has started building a new plant at Kunshan, a satellite city near Shanghai where all its iPhones are assembled, the Liberty Times said without identifying its source.

The paper said the Kunshan plant is scheduled to become operational in the middle of the year and start mass production late this year, when Apple is expected to roll out its iPhone 6.
Along with a larger screen up to 5.7 inches, Apple's iPhone 6 is also rumored to include a curved display and a faster and more efficient A8 chip. A report from this morning also suggested that the phone will continue to use an 8-megapixel camera sensor. Though it is not known when Apple will release the next-generation iPhone, fall of 2014 is a likely candidate given Apple's past device release history.