First Leaked Display Part from the 5.5-Inch iPhone 6
The first alleged parts from the larger 5.5" iPhone 6 have been shared by 9to5Mac. The image shows the front and back of an LCD backlight panel that measures ~14 centimeters or ~5.5 inches diagonally.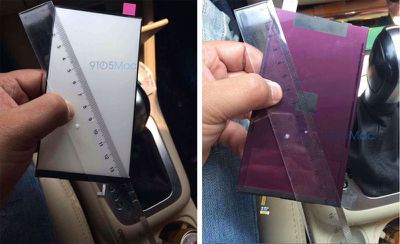 The site claims this represents a part for the 5.5" iPhone 6 which has been rumored to be launching later this year. Apple is also expected to produce a 4.7" model as well.
We've already seen some possible part leaks for the 4.7" model, but this is the first part leak for the 5.5" model. Reports had originally suggested the 5.5" model would be released after the initial 4.7" iPhone launch. More recently, however, we've heard that Apple may have solved whatever production challenges they ran into with the 5.5" model.
Possible parts for the 4.7" iPhone 6 model that have leaked include the front panel, batteries, rear shell and chassis molds. Meanwhile, the same LCD backlight for the 4.7" model was photographed in May. For comparison:

Alleged 4.7" iPhone LCD backlight
The 4.7" and 5.5" backlights share a similar design with each other and with the iPhone 5S LCD backlight. The data connector between the 4.7" and 5.5" models do seem different, however.