Alleged iPhone 6 Batteries Photographed in Production Tray
French site Nowhereelse.fr [Google Translation] has shared a photo of what are claimed to be batteries for the iPhone 6 spotted in a production tray. While the validity of the image cannot be confirmed, the batteries do appear to share similar physical characteristics with other iPhone batteries.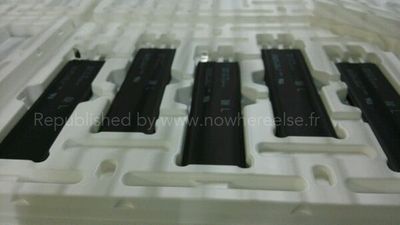 As the report notes, however, the positioning of the iPhone 6's battery appears to be modified as a metallic section present on current batteries appears to be now integrated along the side. This would indicate a potentially new form factor for the iPhone 6.
A report last month indicated that Apple would begin producing all iPhone batteries on automated production lines starting later this year, allowing the company to shift its supply chain resources towards production efforts on other parts. If real, this new image would indicate that Apple has stepped up its battery production efforts ahead of the iPhone 6's launch.
The leak follows a number of others in recent weeks, including an image from earlier this morning that allegedly depicted the front panel of the iPhone 6 as well as several photos that showed manufacturing molds hinting at a larger-screen iPhone.
Apple's next-generation iPhone is expected to be unveiled this fall and has been rumored to launch in sizes of 4.7 and 5.5 inches. Various reports have noted that the 4.7 inch version will ship first, while the 5.5 inch version will ship sometime afterward due to production challenges.
Both models of the next-generation iPhone are also rumored to include a new A8 processor, Touch ID fingerprint sensor, and an enhanced camera with optical image stabilization. Jefferies analyst Peter Misek also noted yesterday that Apple is negotiating with wireless carriers to increase the price of the iPhone 6 by $100.