Apple Granted Patent for Weightlifting Tracker That Utilizes Watch-Like Device
Apple has been awarded a patent by the U.S. Patent and Trademark Office (via AppleInsider) that details a weightlifting tracker that could pair with a watch-like device to provide live progress-tracking to users, offering a potential scenario where Apple's highly-rumored iWatch could be used.
The patent details how a transmitter could attach itself to a weightlifting bar to count repetitions in real time. The transmitter itself is described as having a number of components, including an accelerometer, processor, Hall effect sensor, and display. While some scenarios describe the sensor as showing live information all by itself, a few note that the small beacons could transfer data to devices such as a watch or phone.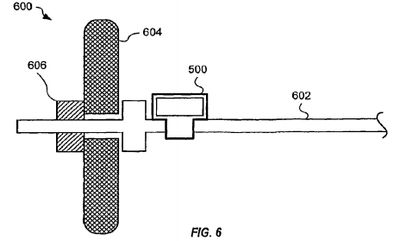 A sensor (500) shown on-top of a body bar
In one embodiment, display 512 is part of a watch (or a MP3 player or a cell phone) that may be seen when worn or used by the user when performing exercises; and measurements determined by processor are transmitted to the watch (or to the MP3 player or cell phone) for display.
In a situation where data is transferred to a watch, the patent notes that the watch's housing could include a processor to store data and inform the user of repetitions for workouts over time. This would allow the device to breakdown a user's workout with the use of multiple sensors, even giving information about the body bar or other equipment used.
Whether Apple integrates the technology described in the patent into a specific product remains to be seen. However, recent reports surrounding the iWatch have described the device as having a multitude of biometric sensors to track a number of health-related metrics, including activity levels.
Furthermore, it is likely that the iWatch will integrate with iOS 8's recently introduced Health app, which provides an easy to read dashboard of health and fitness data that can be pulled from different sources. Apple also debuted a new TV ad called "Strength" last week that focused on fitness accessories and apps.
Apple's iWatch is expected to launch later this year, with a recent report stating that the company is aiming for an October unveiling and release date.