Apple Projected to Beat Wall Street Estimates with 39 Million Quarterly iPhones Shipped
Apple's quarterly iPhone sales may beat Wall Street estimates, based on new data from Morgan Stanley analyst Katy Huberty. According to the firm's AlphaWise Smartphone Tracker, Apple could sell as many as 39 million iPhones in the second calendar quarter of the year, beating Wall Street's predicted 35 million and topping the 31.2 million sold in the same quarter last year.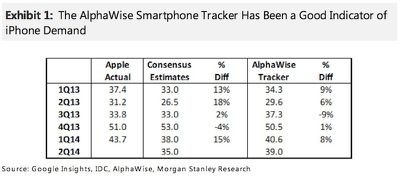 Huberty believes iPhone sales will get a boost this quarter due to deep discounts on iPhone upgrades that entice consumers to buy a new iPhone, despite the upcoming rumored launch of the iPhone 6. Apple recently launched a promotion that encourages customers to trade-in their old iPhone and receive credit towards an iPhone 5s or 5c. Apple is offering iPhone 4 users up to $99, while iPhone 4s owners can get up to $199 as a store credit, making an upgrade to a subsidized iPhone 5s virtually free.
Carriers and third-party retailers also have discounted the iPhone in recent weeks, with Best Buy last month offering up to $200 trade-in value for customers who bring in an older iPhone and upgrade to an iPhone 5s or 5c. To maintain this sales momentum, Apple also may start selling the iPhone along with contract-free calling and data plans for T-Mobile and AT&T.
Morgan Stanley's "AlphaWise" smartphone tracker compiles sales data using Google Trends data and historically is more accurate at forecasting iPhone sales than Wall Street consensus estimates, although Huberty may still tweak her numbers in the closing weeks of the quarter.