Apple Projected to Set New March Quarter Record with 42 Million iPhones Shipped
Apple appears poised to continue its string of setting new year-over-year records for quarterly iPhone sales, based on new data from Morgan Stanley analyst Katy Huberty. According to Huberty's "AlphaWise" smartphone tracker, Apple is on track to ship 42 million iPhones during the January-March quarter, topping the March quarter record of 37.4 million iPhones set last year.
Morgan Stanley's AlphaWise tracker follows Google Trends data, and the firm touts that it has been more accurate than analyst consensus in recent quarters. Analyst consensus and Morgan Stanley's own supply chain estimates have been pegging Apple's iPhone shipments for the quarter at 38 million units, but demand numbers appear likely to push that number up.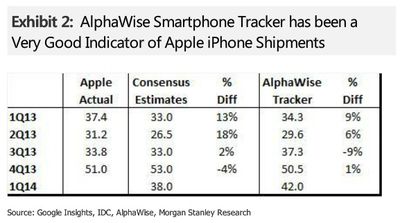 The strong demand appears in nearly all geographical regions, with U.S. carrier and retailer promotions in particular being cited for increasing customer interest.
One area that has not fared as well is China, which is seeing weaker momentum this quarter due to the earlier launch of the iPhone 5s/5c in that country. New iPhones have typically debuted in China several months after the first wave of launches, but Apple made strong efforts to ensure that China was included in that first wave for the latest iPhones. The January addition of China Mobile as an iPhone partner is offsetting that loss of March quarter momentum in China somewhat, but not enough to turn the overall trend for the country positive.