Video of Apple's WWDC 2014 Keynote Now Available
Less than an hour after the end of the event, Apple has already posted video of today's Worldwide Developers Conference keynote to its website. The video is also available on the "Apple Events" channel on the Apple TV.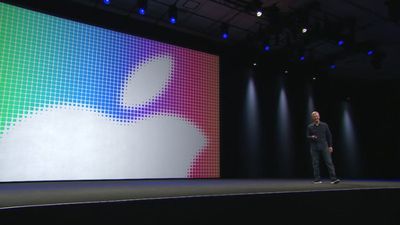 Announcements at the event included:
- Apple Announces OS X Yosemite with Improved Cross-Device Connectivity and New User Interface
- Apple Announces iOS 8 with Interactive Notifications, QuickType, More
- Apple Announces 'iCloud Drive' and 'Mail Drop' Features for OS X Yosemite
- Apple Updates iMessage with Improved Group Messaging and Video and Audio Messages
- 'QuickType' Keyboard for iOS 8 Offers Context-Aware Predicitive Typing Suggestions
- iOS 8 to Include Support for System Wide Third-Party Keyboards
- Apple to Enhance App Store with 'Explore' Tab, App Bundles, Beta Testing, and More
- Apple to Discontinue Support for iPhone 4 in iOS 8
- Apple Announces Significant SDK Improvements with New 'Swift' Programming Language, CloudKit and More


Apple has also uploaded the "
Apps We Can't Live Without
" video to YouTube, which played before the keynote and showcases how users view developers and the apps they build.