Apple today removed the link to the iPod classic from the sidebar of its U.S. and Canadian refurbished stores, perhaps offering an indication that the ancient hard drive-based MP3 player is finally on its last legs. Though the link is gone, the actual page for the refurbished iPod classic remains on Apple's website.
The sidebar link is still present in Apple's international refurbished stores for the time being, but it is greyed out, indicating that no units are available to purchase. It is not entirely clear when Apple's refurbished store last had iPod classic models in stock, but it seems to have been quite some time ago and today's removal of the sidebar link suggests that Apple has no plans to bring them back to the store.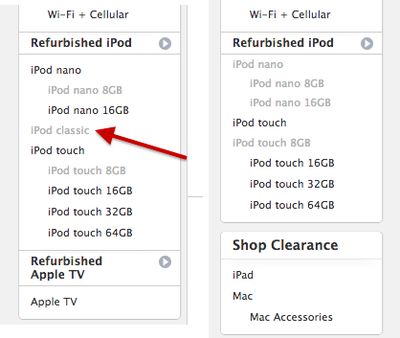 The iPod classic is the successor to the original iPod introduced in 2001 and is the only remaining MP3 player in Apple's lineup that uses a hard disk drive for music storage. As highlighted in our Buyer's Guide, Apple hasn't updated the iPod classic since 2009, and no further updates are expected given the device's age and the fact that hard drive manufacturers are no longer producing the 1.8-inch hard drives used in the iPod classic. Seemingly every year, a new crop of rumors claims Apple is discontinuing the device, but the venerable iPod classic has hung on year after year as an option for those looking to carry larger music libraries on the go. Speculation has suggested that once the iPod touch becomes available in a 128 GB option, Apple may finally choose to retire the iPod classic, but the company has elected not to increase the maximum capacity of the iPod touch since 2009 when the third-generation model became the first to offer up to 64 GB of storage.
Sales of Apple's iPod lineup have been declining as customers turn to the iPhone to meet their music needs. In its latest quarterly earnings for Q2 2014, iPod net sales contributed only 1 percent to Apple's overall revenue, while the iPhone accounted for 57 percent. The iPhone may have crippled iPod sales, but the iWatch may be the death knell. According to analyst Christopher Caso of Susquehanna Financial Group, sales of the iPod will continue to decline precipitously as consumers choose the wrist-watch device instead of a stand-alone player.
While we don't expect AAPL to discontinue iPod for some time, we also don't expect an iPod refresh this year, and believe iPod could post Y/Y unit declines as a result as consumers purchasing iWatch as a substitute.
Besides the iPod classic, Apple also recently removed the 17-inch MacBook Pro from its refurbished store after discontinuing the notebook in 2012.