iWatch May Ultimately Replace iPod, No iPod Updates Expected in 2014
A research note (via Barrons) from Christopher Caso, an analyst with Susquehanna Financial Group, reiterates previous analyst reporting about the iWatch, saying Apple is looking to enter production with a pair of screen sizes in the fourth quarter of 2014.
Caso says Apple has production targets of 5-6 million units, but believes the iWatch will "essentially replace the iPod in the consumer portion of AAPL's product lineup" and will see lowered iPod sales as a result of customers choosing the iWatch instead. The note says the iPod is not expected to be updated this year.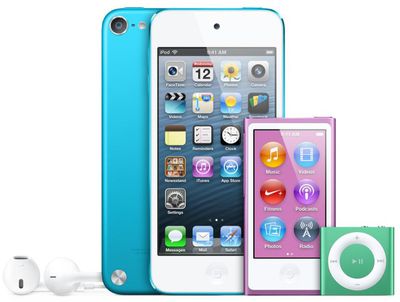 Apple CEO Tim Cook said earlier this year that the iPod "is a declining business", with sales dropping to under $5 billion in 2013, down from a peak of more than $8 billion in 2008. Apple's iPod lineup has not seen a significant update since Fall 2012, other than a minor color change to match the rest of Apple's portable offerings. The iPod Classic has not been updated in several years.
Apple has worked hard to have products at a variety of price points, from the $49 iPod Shuffle up to the 128GB iPad Air at $799, and then to the various Mac products.