Intel's New Haswell Desktop CPUs Could Arrive in May, Allowing for iMac Updates
Intel may release an update to its desktop Haswell processors in May, according to a report in TechPowerUp that cites Hermitage Akihabara as its source. The report claims Intel will launch its new processors, including its flagship Core i7-4790K, on May 10th in most markets. These next generation Haswell chips will include Intel's Z97 chipset, which provides support for faster and larger M.2 SATA Express drives.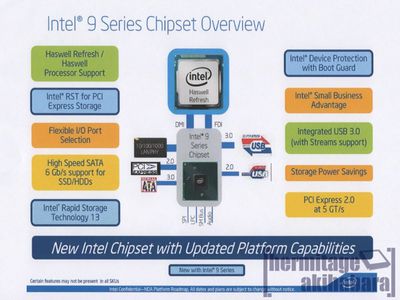 The new Haswell desktop processors will offer a 100 MHz bump in clock speeds and will be a direct successor to most of the chips currently used in the iMac, with the exception of the low-end 21.5-inch iMac, which uses a special i5-4570R chip enhanced with Intel's Iris 5200 integrated graphics. Intel may have a compatible replacement processor under development, but leaked information has not yet revealed this corresponding model.
These chips may lay the groundwork for an iMac refresh that Apple is planning in 2014. Apple allegedly has a low-priced iMac model in the works, claims KGI Securities analyst Ming-Chi Kuo in a research note published this week. This less expensive model may be Apple's first major product launch in 2014 and could boost iMac shipments by up to 30 percent.
Our surveys indicate that Apple's last iMac model, released at end-2012 with an all-new-design, shipped fewer-than-expected units in the worldwide market. We think the price was set too high and the model failed to make an impact in critical foreign markets like China. We thus think Apple may offer a budget iMac model to push shipments among non-US markets in the face of solid competition from Levono (CN), HP (US) and other rivals.
Though Intel's desktop processors may be slated for a refresh as early as next month, the timing for the release of the mobile processors used in Apple's MacBook Air and MacBook Pro are not yet known. The latest information leaked earlier this year by VR-Zone suggests low-end models of Intel's next-generation Broadwell processor may debut in Q3 2014, with the roadmap for high-end processors compatible with Apple's MacBook line still up in the air.
Speed bumped versions of the current Haswell chips in the MacBook Air and MacBook Pro may appear at the end of 2014, but that release date still is uncertain at this point and would only provide a small upgrade heading into Broadwell next year.