Flappy Bird to Return to the App Store in August, Will Be Multiplayer and 'Less Addictive'
Flappy Bird creator Dong Nguyen today announced plans to return Flappy Bird to the App Store in August in a new interview with CNBC's Kelly Evans. According to Nguyen, the new version of Flappy Bird will be a multiplayer title that is "less addictive."
Back in February, Nguyen unexpectedly pulled Flappy Bird from the App Store after it became wildly popular, due in part to the attention he was receiving. "Please give me peace," he tweeted just a week before removing the app from the App Store. At the height of its popularity, the game was generating approximately $50,000 per day in revenue from in-app ads, causing a media frenzy.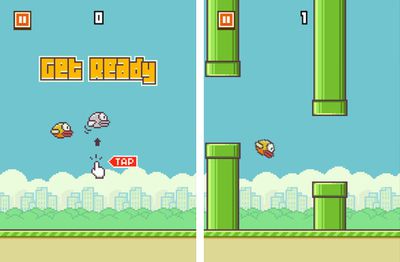 In a March interview with Rolling Stone, Nguyen confessed that the reason he pulled the app was in part due to the overwhelming amount of attention he garnered from the media, but also because of troubling messages he received from Flappy Bird players about the game's addictiveness. One woman told him he was "distracting the children of the world."
Nguyen noted that he had trouble in school in his own youth because of an addiction to video games, and admitted to feeling guilty that Flappy Bird was an "addictive product."
After Flappy Bird was removed from the App Store, hundreds of other Flappy-style apps flooded the App Store as developers attempted to clone some of Nguyen's success, and at one point towards the end of February, one-third of new games released over a 24-hour period were heavily influenced by Flappy Bird.
Though the prominence of Flappy Bird clones has died down in recent weeks, fans will likely welcome the return of the original game. As Nguyen has said, "People can clone the app because of its simplicity, but they will never make another Flappy Bird." While Nyugen has mentioned multiplayer as one new aspect of the game, it is unclear how he plans to make it "less addictive."
During today's interview, Nguyen also relayed some details about his next game, which is said to be a jumping game where players control a character that leaps from building to building.