Flappy Bird Clones Make Up One-Third of Newly Released iOS Games
Though it has been three weeks since Dong Nguyen pulled his hit game Flappy Bird from the App Store, Flappy clones are continuing to flood the App Store.
Over a 24-hour period beginning yesterday, approximately 293 new iOS games have been released into the App Store. 95 of those games are either Flappy Bird clones or heavily inspired by the original Flappy Bird title, according to data gathered by The Guardian.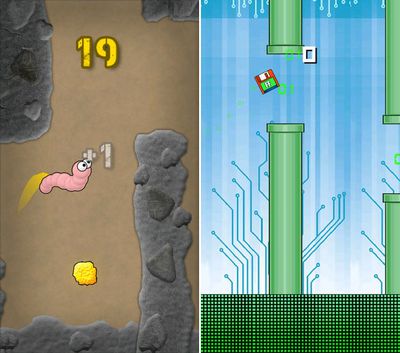 Various games inspired by Flappy Bird
The
Flappy Bird
clones run the gamut of themes and main characters, and while a large number feature birds, there are also unicorns, floppy disks, cats, sponges, bricks, worms, pigs, and more.
Flappy Beard Hipster Quest
lets gamers guide a bearded hipster through cans of beer, while
Buffalo Wings
, from well-known developer
Tapity
, asks players to navigate a flying buffalo through brick pillars.

Buffalo Wings from Tapity
Flappy Bird
clones have
been appearing
in the App Store since shortly after the original game ceased to be available. Mere hours after
Flappy Bird
's removal,
Flappy Bee
, a clone game that utilized stolen artwork, shot up the App Store charts, reaching the top five most popular free apps.
Apple began rejecting some Flappy Bird clones in mid-February, and even cracked down on Flappy Bee, insisting on a name change, but it appears the company has given up trying to filter out the slew of games attempting to capitalize on Flappy Bird's success. Many of the games released today even include Flappy in the title, a term that Apple was previously attempting to filter out.
At the height of its popularity, Flappy Bird was reportedly earning $50,000 per day, leading the developer to remove it from the App Store because it was an "addictive product," leaving a void that other developers have been attempting to fill, sometimes successfully.
According to the unscrupulous developer behind Flappy Bee, Apple's aforementioned forced name change caused the app to fall 300 places in the App Store charts, depriving him of 99 percent of the downloads and income he received by copying the Flappy Bird concept. In an interview, the developer hinted Flappy Bee may have been earning somewhere in the neighborhood of $10,000 to $15,000 dollars a day. The developer behind Flappy Bee has since restored the app to its original name and removed the stolen artwork, but the app has failed to make its way back up the charts.
Given Flappy Bird's incredible popularity and its lucrativeness during the time it was on the App Store, Flappy Bird clones and games inspired by the concept are unlikely to disappear from the App Store anytime soon. As for the original game, developer Dong Nguyen has no plans to return it to the App Store, though he will continue to release new titles.