Apple Rejecting 'Flappy' Titled Games From App Store
Apple has begun rejecting games attempting to take advantage of the popularity of the now-defunct Flappy Bird, a hit game that developer Dong Nguyen removed from the App Store earlier in February.
Shortly after Flappy Bird was pulled from the App Store, several clones of the original game soared up through the App Store charts, including a game called Flappy Bee, which stole artwork from a different app.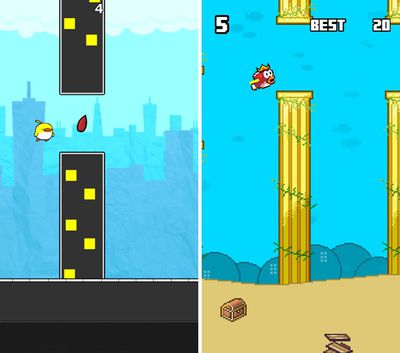 Two Flappy Bird clones
According to
TechCrunch
, Apple began cracking down on Flappy-titled games over the weekend. One developer, who tried to release an app called "Flappy Dragon" into the App Store, had his app rejected by Apple for attempting to "leverage a popular app," thus violating App Store Review Guideline 22.2, which references apps that contain "false, fraudulent, or misleading representations."
22.2: Apps that contain false, fraudulent or misleading representations will be rejected.

We found that your app, and/or its metadata, contains content that could be misleading to users, which is not in compliance with the App Store Review Guidelines.

We found your app name attempts to leverage a popular app.
Several additional Twitter comments revealed that other developers were facing the same rejections on games attempting to use the Flappy moniker, though multiple "Flappy" apps remain in the App Store, including Flappy Fish, Flappy Plane, Flappy Pig, and Flappy Puppy, having presumably made it though the review process before Apple began cracking down on Flappy apps.
Flappy Bee, the aforementioned app that used stolen artwork and managed to make its way to the top of the App Store charts, has, however, had its name changed to Jumpy Bee, suggesting that Apple may also be asking some existing clone apps to change their names to put an end to the Flappy frenzy. At the height of its popularity, Flappy Bird was reportedly earning $50,000 per day from advertising, so it is unsurprising that developers have rushed to fill the Flappy Bird void.
Though Apple has begun cracking down on the Flappy phenomenon, two popular Flappy Bird clones, Splashy Fish and City Bird - Flappy Flyer remain the number one and number two free iPhone apps some eight days after the original Flappy Bird game was pulled from the App Store.