A pair of LinkedIn job listings spotted by Nokia Power User is being interpreted as a sign that Nokia's HERE mapping and location services may be returning to iOS, but Nokia's Pino Bonetti points out that the company is simply focused on delivering SDK tools to allow third-party developers to incorporate HERE maps into their apps.
Hi guys, just to clarify, a mobile SDK is not an app. We are providing tools to our partners so that they can build apps with our maps. We already announced this on our blog (HERE Three Sixty) and you can already see some action: Amazon is using our maps in their Kindle Fire, Deutsche Telekom is using our maps for their Arrival Control app on iOS and Android.
With Microsoft having closed its purchase of Nokia's devices unit late last month, a scaled-down Nokia will need to focus on other areas where it holds a leadership advantage, and HERE is one way Nokia can leverage its NAVTEQ mapping expertise.
As for a standalone HERE app for iOS, it does not appear that Nokia has any public plans to return to the platform. Nokia's HERE Maps app was previously available to iOS owners, but the app was pulled by Nokia last December due to compatibility problems with iOS 7. The company put the blame for the removal on Apple, claiming that changes in iOS 7 "harm the user experience."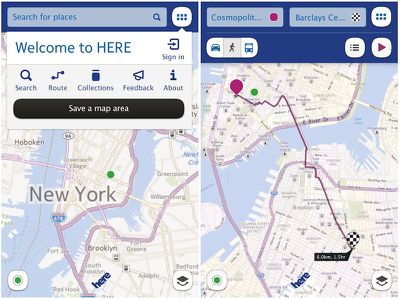 Nokia's previous version of HERE Maps for iOS
The job listings seek experienced developers to work on the company's mobile engineering team as they assist in the building of "advanced location-based services applications for the Android and iOS platforms."
As an Android / iOS developer you will be a key member of our growing mobile engineering team, developing industry-leading mobile SDKs / applications. This is an experienced position that requires fluency in the latest Java capabilities and improvements in the Android and iOS SDK. The ideal candidate is motivated to explore and deliver the best possible solutions to our customers.
Formerly known as Nokia Maps and Ovi Maps, the HERE service uses the Nokia-owned NAVTEQ mapping database to provide navigation services, transit maps and points-of-interest information. Nokia HERE is one of three business units remaining after Microsoft acquired Nokia's mobile devices and services business.
HERE is attempting to gain traction in a crowded iOS marketplace dominated by rival Google Maps, iOS Maps and other third-party apps from Navigon and TomTom. After a rocky start in iOS 6 and some improvements and visual changes in iOS 7, Apple is rumored to be bolstering its Maps application in iOS 8 with new transit information, expanded points of interest, and improved cartography.