Apple has donated $500,000 to SF Gives, an anti-poverty initiative formed by Salesforce.com CEO Marc Benioff and Tipping Point CEO Daniel Lurie, reports Fortune. Apple's contribution comes ahead of the SF Gives' Wednesday deadline, which looks to get 20 companies to contribute $500,000 each, or $10 million in total to fund charitable programs in the Bay Area.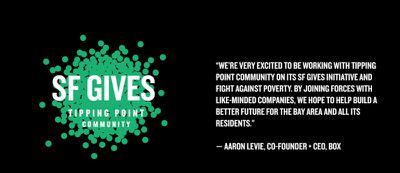 The Cupertino, Calif.-based tech giant joins a list of 15 corporate contributors that includes Google, LinkedIn, and Zynga. Launched in early March, SF Gives is the brainchild of Salesforce.com (CRM) CEO Marc Benioff and Daniel Lurie, CEO of the nonprofit Tipping Point.

The donation also follows a number of charitable moves made directly by Apple in the past few years, including the establishment of a donation matching program for employees which generated $2.6 million in less than a year. Since 2006, Apple has also partnered with (Product) RED to contribute a total of $70 million towards HIV/AIDS programs in Africa. Through the collaboration, Apple has sold special (RED) products, including iPhone 5s cases, iPod nanos and shuffles, iPad Smart Covers, and iPhone Bumpers.