Apple's (Product) RED Charity Contributions Reach $70 Million
Apple's (Product) RED contributions towards the fight against AIDS have reached $70 million, according to a Friday tweet from the (RED) Twitter account. That's up $5 million from $65 million in July of 2013, with 100 percent of that total going towards HIV/AIDS programs in Africa.
Great news to end the week! Apple's total for @RED reaches $70 MILLION. 100% goes to fight #AIDS. Thank you all for buying (APPLE)RED. — (RED) (@RED) April 4, 2014
Apple has collaborated with (RED) since it was created in 2006, first releasing a special edition (RED) iPod nano. Since then, Apple has released a number of (RED) devices, including iPod nanos and shuffles, iPad Smart Covers, iPhone Bumpers, and iPhone 5s cases. With every (RED) product bought, Apple donates a portion of the purchase price to the charity.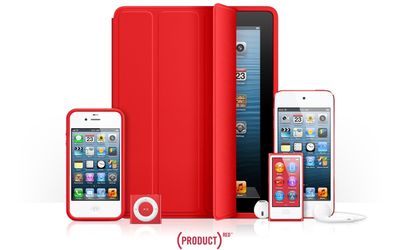 Last year, lead Apple designer Jony Ive teamed up with designer Marc Newson to create a range of one-of-a-kind products that were auctioned off by Sotheby's, with proceeds going to (RED). Items included a red Mac Pro and solid gold EarPods, earning nearly $13 million in total.
(Product) RED is affiliated with several other companies in addition to Apple, including Starbucks, Nike, and American Express, raising more than $200 million to date.