Apple and Employees Give $2.6 Million to Charity Through Donation Matching Program
Apple has matched $1.3 million in employee donations for a total of $2.6 million donated to charity via a program CEO Tim Cook instituted earlier this year. Via the program, Apple offered to match U.S. full-time employees' contributions to 501(c)(3) charitable organizations, up to $10,000 per employee per year.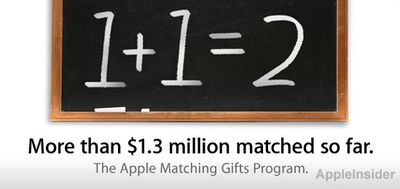 The $1.3 million matched so far is being used by Apple to internally promote the program and solicit more donations. An image touting the success of the program links employees to a page that provides an overview of the matching program.
The total was first reported by AppleInsider.