Apple's 'iWatch' Said to Arrive in October 2014 with Wireless Charging
According to Chinese site C Technology [Google Translate, via GForGames], Apple is planning to release its long-rumored iWatch alongside the next iPhone in October 2014, with the company having tested two iWatch prototypes. However, the report also states that Apple has not decided on the final screen size of the device, with the prototype units being powered by a 100 mAh battery. The iWatch is also said to include wireless charging capabilities which will allow the device to charge from up to a meter away.
The report questions the reported inclusion of a 100 mAh battery, noting that it seems far too small to allow for significant battery life. Samsung's Galaxy Gear watch contains a 315 mAh battery and has received criticism over poor battery life.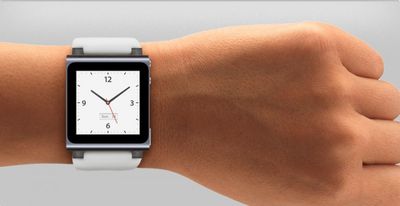 Sixth-generation iPod nano with watch face
Battery life has previously been reported as being an
issue for Apple
, with iWatch prototypes lasting only 1-2 days on a charge and the company hoping to find ways to extend that to 4-5 days.
C Technology
notes that wireless charging would be one way to reduce the burden of frequent charges, but it is unclear exactly how it would be implemented by Apple. A 100 mAh battery in the iWatch would roughly match the
105 mAh battery
seen in the sixth-generation iPod nano that was designed in part to be able to be used as a watch.
In contrast, a report last month from Digitimes stated that the iWatch would be released in Q2 2014, with component makers having started pilot production for the device. The report also stated that low part yields have pushed back mass production of the device from an internal target date of Q1 2014 to Q2 2014, with Apple suppliers Quanta, Inventec, and Foxconn said to be competing for iWatch production orders.
iWatch reports have surfaced throughout the past few months, with Apple rumored to be releasing both 1.7 and 1.3-inch display sizes of the watch for men and women. NPD DisplaySearch analyst Paul Gagnon also noted that Apple appears to have put its major television product plans on hold for the time being in order to focus on wearables such as the iWatch.
C Technology's rumor track record is mixed, with the site being a frequent source of accurate iPhone 5s and 5c photo leaks leading up to the launch of those devices but also sharing several inaccurate pictures claimed to be of iPads in gold and/or with Touch ID prior to the introduction of the new tablets.