iPhone 6 Renderings Based on Leaked Schematics Highlight Larger Displays
Late last month, a set of alleged design drawings was published by Japanese magazine MacFan, showing dimensions for upcoming 4.7-inch and 5.7-inch iPhone models. It's not uncommon for us to see design and case leaks in the months leading up to the new iPhone release.
In some cases, as with the iPhone 5C, early design leaks turn out to be quite close to the final product, though in other instances they turn out to be inaccurate.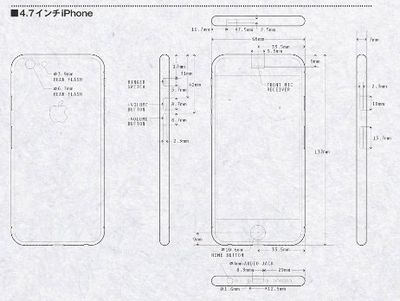 Based on those drawings, MacRumors commissioned designer Ferry Passchier to create some full product renderings of the rumored iPhone 6. While these aren't the first renderings, we asked Ferry to also show how they would compare in size to existing devices such as the iPhone 5s and iPad mini.
The iPhone designs in the drawings include several differences compared to the iPhone 5s. The top power button has been moved from the right side to the left side of the device. The rear camera on the larger model is also shown as protruding slightly from the rear shell, as is the case with the current iPod touch. The camera flash has also reverted back to a round-design unlike the one found on the iPhone 5s.
This image shows how the new iPhone 6 design compares to the existing product line. The iPhone 5s is depicted on the left with a 4" screen, while the iPad mini (7.9") is on the far right. In between are the rumored 4.7" and 5.7" iPhone 6 from the design document.
Over the weekend, an Apple slide deck from April 2013 surfaced from the ongoing Apple-Samsung patent trial, illustrating Apple's awareness that smartphone growth was coming from the low end of the market and in phones with screens larger than the iPhone's 4-inch display. With the slides noting that "customers want what we don't have", it's clear why Apple is reportedly planning to increase the size of the iPhone's display with this year's models. The iPhone 6 is expected to debut this fall, although a recent report from Reuters claims that the larger version may not be ready to launch at that time.
We can't be certain these schematics are accurate, but Apple clearly sees the need to address the larger smartphone market. We expect more leaks in the future as production of the iPhone 6 begins ramping up.