Apple Testing Maps Notifications to Inform Users of Fixed Problems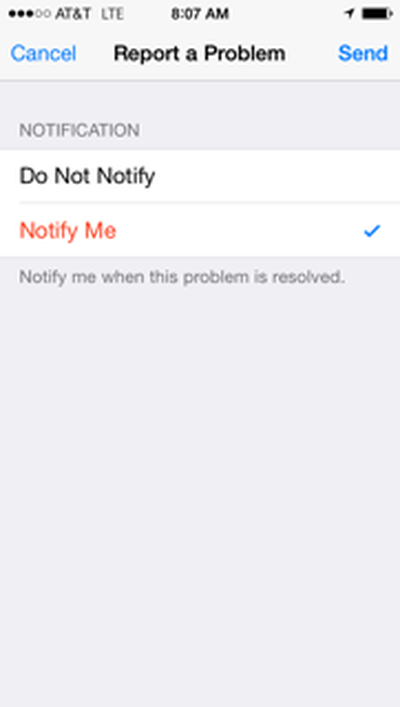 Apple seems to be testing a new notification feature in its Maps application, based on a report and screenshots captured by a MacRumors reader.
The user reported an error to Apple in the Maps app on April 6 and was given an option to receive a notification when the issue was resolved, with Apple sending a push notification on April 8 indicating the problem had been fixed.
It appears that the feature is still in testing at this point and it is unclear when it might be made available to all users. The initial user who first spotted the feature says that the option has only appeared intermittently, and at least two MacRumors forum users were able to confirm that they had seen it as well. MacRumors has been unable to reproduce it.
While Apple has allowed users to report errors since Maps first debuted in September of 2012, the company has not previously provided notifications that let users know when a problem has been fixed. Notably, Google currently includes support for a similar feature in its mapping service, notifying users via email about the progress of a reported problem or suggested edit.
News of the notification feature comes as Apple continues to work hard on improving its mapping app after facing significant criticism over data inaccuracies when the app first launched alongside iOS 6. Apple CEO Tim Cook publicly apologized for Maps after the problematic launch, stating that the company was "extremely sorry" for the frustration it had caused, promising to work "non stop" until Maps was improved.
Maps notifications would allow users to know that Apple is actively listening to reports and working diligently on fixing errors. Apple's mapping application has been notable for providing potentially dangerous information at times, as it has directed drivers in Alaska onto an airport taxiway used by the Fairbanks International Airport and directed motorists in Victoria, Australia to the middle of the wilderness.
Screenshots showing the correction notification: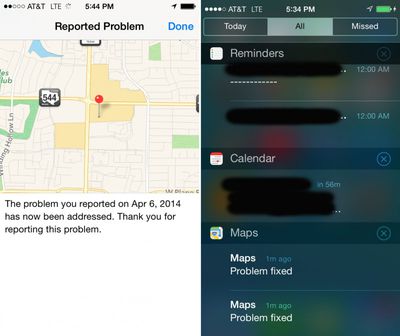 Push notification and notice that Maps data has been corrected
Apple has hired dozens of "ground truth" experts around the world to improve the quality of its mapping service and acquired a number of mapping apps throughout the past year, including
HopStop
,
Locationary
,
BroadMap
, and
Embark
. It is also likely that Apple features
major improvements
to the Maps app in iOS 8, such as adding transit directions for the first time and enhancing points of interest.
Thanks Michael