Apple's Maps App Directs Alaska Drivers onto Airport Taxiway
Drivers who use Apple's Maps app for directions to the Fairbanks International Airport in Alaska are being instructed to drive onto an airport taxiway, reports AlaskaDispatch. The taxiway is located directly across from the runway, which is used by aircraft on a regular basis. Though the instructions do not direct drivers to the runway, people have driven there by mistake.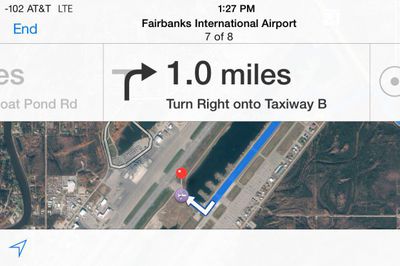 The turn-by-turn directions were specific, using the access route that general aviation pilots use to the East Ramp, which is on the other side of the runway from the main airport terminal.

The map directions concluded by telling drivers to go to Taxiway Bravo, shown as "Taxiway B" on the satellite image in the app. The directions did not tell drivers to cross the main runway used regularly by 737s and other aircraft.

But once drivers reached the taxiway, it was only natural for them to look up and see the terminal on the other side of the runway. So that's where they drove.
According to the airport's chief of operations, Melissa Osborn, out-of-town drivers have driven onto airport property twice in the past several weeks, crossing the runway and driving directly to the airport ramp side of the passenger terminal. "These folks drove past several signs. They even drove past a gate. None of that cued them that they did something inappropriate," she said.
Though airport staff have complained to Apple via the attorney general's office, the Maps app is currently still routing drivers to the taxiway. Apple's legal department promised a quick fix, but the issue reoccured causing the airport to close access to Taxiway Bravo. Apple has now promised a fix by Wednesday.
Apple's Maps app has managed to stay out of the spotlight in recent months, but this is not the first time Maps users have been given potentially life threatening advice. Back in December, the Maps app was directing motorists in Victoria, Australia to the middle of the wilderness.
Apple has made efforts to improve its mapping app after facing significant criticism over data inaccuracies when the app launched. The company has hired dozens of "ground truth" experts around the world to improve the quality of its mapping service and has also acquired a number of mapping apps including HopStop, Locationary, and Embark.
Apple CEO Tim Cook famously apologized for Maps after its disastrous launch, stating that Apple was "extremely sorry" for the frustration that it had caused, promising to work "non-stop" until Maps was improved.
Update: Apple has removed the taxiways from its Maps app and added several "Road Closed" icons in the vicinity to help alert drivers, but the app is now unable to offer directions to the airport.