How To Report a Problem With iOS 6 Maps Data
A large amount of criticism has been correctly directed towards Apple regarding the new Maps app in iOS 6, with common complaints focusing on Points of Interest data. This is the information that Apple has purchased from third parties relating to addresses and phone numbers of stores, museums, hospitals and the like.
Google Maps is a much more complete, more polished product offering, but that's mostly because Google Maps has been around for years. Its developers have had plenty of time to refine it -- but its users have helped a considerable amount as well. Every Google Maps page has "report a problem" located somewhere on it, allowing the company to crowdsource and verify much of its data.
Like Google Maps, Apple also allows users to submit error reports and correct POI data. Last week, Apple said that "the more people use [Maps], the better it will get." Reporting errors in information is surely part of how Apple plans to improve the product.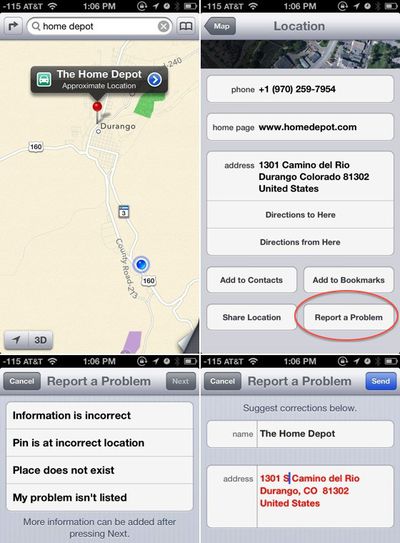 The Home Depot in Durango, Colorado is located at 1301 South Camino del Rio, but, Apple's map data puts it at 1301 Camino del Rio, in the middle of downtown Durango. It's unclear how quickly the data will be integrated into Maps, nor what sort of quality control processes the company has in place to deal with malicious submissions.
However, with Apple aggressively recruiting former Google Maps employees, it seems likely that lessons learned during Google Maps development will soon be implemented at Apple. Incidentally, Google Maps gets the address correct.