Apple's Arizona Sapphire Plant May See Expansion to Bolster Yields
As construction on Apple and GT Advanced's sapphire manufacturing plant in Mesa, Arizona, progresses, the two companies are already looking at expanding their available space.
According to AppleInsider, several companies in the area are currently bidding on a potential expansion, which would possibly allow GT Advanced to put out even greater quantities of sapphire for use in Apple's products. While it remains unclear just how Apple will use the sapphire, there have been several strong hints and equipment orders pointing towards sapphire displays for the upcoming iPhone 6.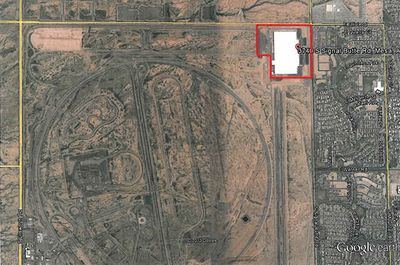 Aerial view of Apple's existing facility (via AppleInsider)
Announced
in November
, the Mesa, Arizona facility currently under construction will house approximately 700 employees with enough sapphire-making equipment to supply screens for Apple's entire line of iPhones – capacity is at 100 to 200 million sapphire displays per year, according to an
analyst estimate
. If the proposed expansion is also used for sapphire manufacturing, GT Advanced's output capabilities could increase even further.
Public records from the U.S. International Trade Administration suggest that there are several vacant parcels of land adjacent to the area where Apple is already building.
Although the exact purpose of the second unit is unknown, the build would likely be similar to Cascade's building as project planners are said to be fielding bids from existing construction companies and material suppliers. Firms actively working on the project include Rosendin Electric, Wesco Distribution and Graybar Electric, among others.
While documents filed with the Foreign-Trade Zone Board in January suggested Apple was aiming to open the plant in February, construction is ongoing. The site does appear to be functioning in a partial capacity, however, powered by an array of temporary generators, possibly already producing sapphire for future products.