Apple Looking to Take Arizona Sapphire Plant Live in February for 'Critical' Component
Apple is aggressively pursuing the launch of its new sapphire plant in Mesa, Arizona for a "critical new sub-component", according to documents obtained by 9to5Mac. The company is aiming to open the plant by February.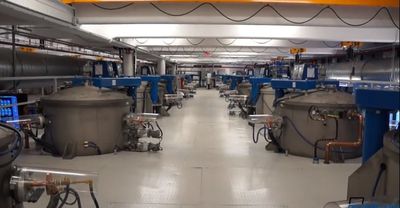 Furnaces for sapphire glass production.
The documents reveal that James J. Patton, Apple's Deputy Director of Global Trade Compliance, requested expedited approval from the Foreign-Trade Zone Board to approve two requests that would allow Apple to meet its "aggressive go-live timeline" for February 2014. Recently, both Apple and manufacturing partner, GT Advanced, have been
recruiting
potential employees for the sapphire plant.
In addition, the documents indicate the sapphire plant would be used to create a "critical new sub-component" for use in Apple's consumer electronics. Apple currently uses sapphire glass to protect the iPhones' camera lenses and the iPhone 5s' Touch ID home button, but Apple's language in the documents suggests something more could be in the works.
Project Cascade will conduct high-tech manufacturing of intermediate goods/components for consumer electronics. All finished components will be exported. This high-tech manufacturing process will create a critical new sub-component of Apple Products to be used in the manufacture of the consumer electronics that will be imported and then sold globally. By pulling this process into the U.S., Apple will be using cutting edge, new technology to enhance and improve the consumer products, making them best in class per product type.
While it's not clear what a "new" sub-component could be, Apple could be looking to create full-screen displays made out of sapphire. Sapphire could also be used to protect the display on Apple's much-rumored iWatch.
The report also includes information on some of the other materials that will be utilized in the plant, like diamond cutting wire, which as 9to5Mac points out, is currently used in iPhone and iPad assembly to create bezels.
Just a couple days ago, Taiwan's Apple Daily reported the company's assembly partner Foxconn had begun an initial 100 unit run of an iPhone with a sapphire glass display. Last week, an Apple patent application for an Apple device with a sapphire glass display was also discovered.
Sapphire has been seen as a potential successor to high-strength glass for display covers, although Corning claims Gorilla Glass 3 is stronger than sapphire glass at a lower cost. Apple has reportedly experimented with sapphire glass displays before, but found them infeasible. It is possible, however, that advances in material and production technology have allowed the company to revisit the possibility.