Apple Reportedly Launching 8 GB iPhone 5c Tomorrow
Apple is planning to release a new 8 GB version of the iPhone 5c tomorrow, according to an alleged note to retailers from Vodafone's O2 unit in Germany shared by Caschys Blog [Google Translate]. The legitimacy of the note is unverified, but German site iFun reported a similar tip [Google Translate] just a few minutes later and several tipsters have even reported to MacRumors that shipments of the new models have arrived at carrier stores in the UK.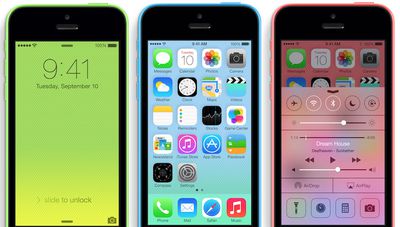 Pricing on the 8 GB model has yet to be revealed, but one of the sources has indicated that the device will be available in all of the existing color options. All of the reports we've seen so far have come from Europe, but the device would presumably see a worldwide launch as there would seem to be little reason for Apple to limit distribution to Europe.
Apple's iPhone 5c has seen lower than expected sales since its debut last September alongside the flagship iPhone 5s, with the iPhone 5c essentially representing an iPhone 5 repackaged in colorful new plastic shells and available in 16 GB and 32 GB capacities priced $100 below the corresponding iPhone 5s models. A new 8 GB model would allow Apple to bring the entry-level price for the iPhone 5c even lower, and while the capacity may not be enough for some users, many budget consumers may find it acceptable and Apple does currently offer an 8 GB iPhone 4s as its cheapest option in most countries.
Update 8:17 AM: A photo of a packaging label from the new 8 GB iPhone 5c has now surfaced.