Apple Releases Revamped iTunes Festival App Ahead of SXSW, iOS 7.1 Not Required
Apple today updated its iTunes Festival app to version 5.0, ahead of next week's SXSW iTunes Festival, which kicks off on Tuesday, March 11. As noted by MacStories, the iTunes Festival app shows up in the iTunes Store with a revamped icon and is listed as having a "refreshed design" and support for SXSW, but the app isn't available for download in the U.S. just yet.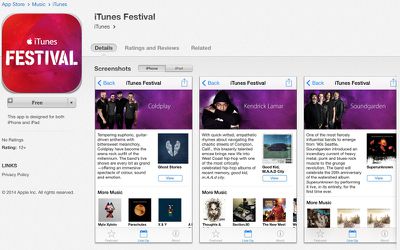 Clicking on the download link results in an error message that asks users to try again later, but it will presumably be downloadable shortly. Users in other countries have been able to download the app with iOS 7.0.6, suggesting SXSW streaming does not require iOS 7.1 as was reported earlier this week.
Apple's SXSW iTunes Festival is the first it has hosted in the United States, with previous iTunes Festivals occurring annually in London. The festival will offer five free nights of music, beginning on March 11 at Austin City Limits Live at the Moody Theater in Austin, Texas. Featured artists include Coldplay, Imagine Dragons, Kendrick Lamar, Soundgarden, Pitbull, Keith Urban, and more.
All of Apple's iTunes Festival concerts are presented for free, with tickets available via a lottery system. Live and on-demand streams of the shows will be available through the revamped iTunes Festival app and the Apple TV.
Update 2:07 PM PST: The iTunes Festival app can now be downloaded from the App Store. [Direct Link]