CarPlay Shown Off in New Promo Video from Volvo, Wi-Fi Connections Coming Soon
Following this morning's announcement from Apple that it will officially begin rolling out its "CarPlay" iOS vehicle integration with Ferrari, Mercedes-Benz and Volvo on board as the first launch partners this week, Volvo has published its own press release announcing the launch. Volvo's promotional materials include a new video briefly showing off CarPlay in action.
Volvo also goes a step beyond the basic CarPlay implementation to take advantage of the large portrait touch screen on the upcoming XC90 SUV, making both Apple and Volvo controls available simultaneously.
Volvo enhances Apple's capabilities by linking them to a specially-developed interface that allows drivers to use voice and touch controls to access Apple features and services, ensuring the entire interaction is always safe and easy to use.

With Apple CarPlay, users will immediately recognise their basic iPhone applications, such as phone, messages, music and navigation. The initial offer also features third party audio apps including Spotify, the popular music streaming service.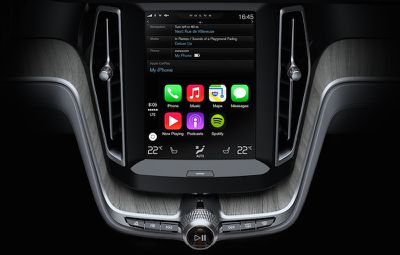 Volvo's press release also makes clear that while the initial implementation of CarPlay will require a wired connection using an iPhone's Lightning connector, Wi-Fi connectivity will be "coming in the near future".