At the same time the U.S. Federal Aviation Administration is easing restrictions on the in-flight use of electronics for passengers, it is tightening its rules on electronics usage by pilots. A new FAA rule (PDF) published on Tuesday prohibits the personal use of electronic devices by flight crew members while an aircraft is being operated. It is an addendum to the FAA's 1981 "Sterile Cockpit" rule that requires pilots to refrain from non-essential activities during critical phases of flight.
This final rule will prohibit flightcrew members in operations under part 121 from using a personal wireless communications device or laptop computer for personal use while at their duty station on the flight deck while the aircraft is being operated. This rule, which conforms FAA regulations with legislation, is intended to ensure that certain non-essential activities do not contribute to the challenge of task management on the flight deck or a loss of situational awareness due to attention to non-essential tasks.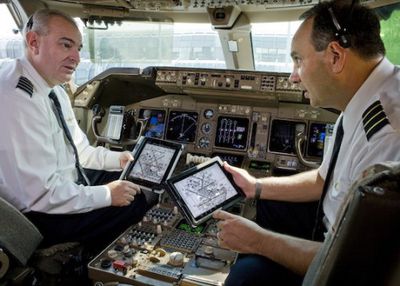 This FAA rule is a response to earlier instances of distracted flying by commercial airline pilots. In one 2009 incident, two pilots for Northwest, now Delta Air Lines, overshot their destination airport by 150 miles because they were using their personal laptops. During a 78-minute period, neither pilot noticed communications sent by company dispatchers and air traffic control. They only corrected course after a flight attendant called the cockpit to check on the flight's estimated time of arrival.
Though the personal use of electronic devices is banned, the FAA rule does permit the essential use of electronic flightbooks in the cockpit. Several US airlines, including JetBlue, American Airlines and United, have adopted iPads to replace heavy flight bags. These iPads are equipped with key flight charts, reference documents and checklists necessary for the operation of the aircraft.
While pilots must pay attention while flying, a recent FCC proposal would allow passengers to make phone and data calls while flying. In response to consumer opposition to in-flight calling, lawmakers are drafting a bill that would ban in-flight phone calls, says the Associated Press.
"Most passengers would like their flights to go by as quickly and quietly as possible," Rep. Bill Shuster, R-Pa., the committee's chairman and sponsor of the bill, said. "When it comes to cellphones on planes, tap don't talk."
The bill requires the Department of Transportation to issue regulations that would prohibit phone calls during flight. The bill has passed the House Transportation and Infrastructure Committee and will move to the floor for discussion.