Apple Celebrates The Beatles' American Debut with New Apple TV Channel
To commemorate the 50th anniversary of The Beatles' American debut, Apple today has expanded the lineup for its Apple TV set-top box by adding a channel dedicated to the legendary rock group.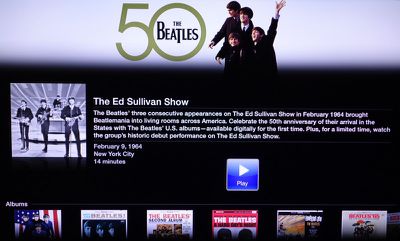 The channel allows users to view The Beatles' groundbreaking performance on "The Ed Sullivan Show" for a limited time, and also offers download links to The Beatles' U.S. releases, which are available digitally for the first time on iTunes.
The Beatles' music originally debuted on iTunes in November 2010 after years of speculation and prolonged negotiation between record label EMI and Apple. The group's music went on to sell 2 million songs and 450,000 albums in its first week on the iTunes Store, and eventually reached overall sales of 5 million songs and 1 million albums within in two months. Exclusive ringtones by The Beatles were made available on iTunes in February 2012, and a digital compilation of 59 rare and unheard recordings by the group also launched last December.
Thanks, Mike!