As noted this morning, Apple has plans to open its first retail store in Brazil on Saturday, February 15. The store is located in the Village Mall luxury shopping center in Rio de Janeiro's famous Barra Da Tijuca borough.
Brazilian news site The Globe [Google Translation] had an opportunity to speak with Apple Chief Financial Officer Peter Oppenheimer about the store opening, which has been in the works for several years.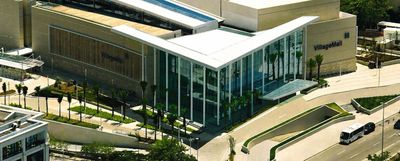 The Village Mall in Rio
According to Oppenheimer, Brazil is an increasingly important market for Apple. The company first launched an online store in the country in 2009 and is "very excited" to bring a physical store to Brazil.
Brazil has been a tough market for Apple as prices on iOS devices in the country have been prohibitively high. Apple cut the price of the iPhone 4 and 4s in Brazil back in early 2013, and just recently announced plans to continue selling the low-cost iPhone 4.
The new Apple Store in Rio de Janeiro takes on a unique "pavilion" design with a single floor and a long, curved glass exterior, which Oppenheimer says is one of the few stores to have the design worldwide. The concept is based on two spaces, with the front dedicated to product testing and the back focusing on sales of accessories and services.
Apple recently opened a similar store in Palo Alto at the Stanford Mall. The one-story location features a glass-enclosed front room filled with iPads, iPhones, and MacBooks for people to test out along with a spacious back room for accessory sales, Workshops, and Genius Bar appointments.
In the interview, Oppenheimer also confirmed Apple was indeed aiming to open the first Brazilian Apple Store ahead of the FIFA World Cup, which will take place in Rio this summer, and ahead of the 2016 Olympics.
The first Brazilian Apple Store will open on Saturday, February 15, and Oppenheimer says there are already plans for additional retail stores in Brazil, where Apple sees "great opportunities." "We are already planning the opening of new stores in the country, continuing our investments in Brazil," he said.