Apple Partner GT Advanced Recruiting Local Residents for Jobs at Arizona Sapphire Plant
GT Advanced, Apple's manufacturing partner for its new sapphire glass plant in Mesa, Arizona, has sent a postcard to local residents advertising for open positions at its new facility. A MacRumors reader who lives in Mesa sent us the postcard he received. The new facility is reported to have some 700 employees between both Apple and GT.
The positions are separate from the job openings that Apple posted last week and they are likely for lower-level jobs than the more supervisory Apple roles. Jobs mentioned include Manufacturing Operators and Technicians, Process Engineering Manager, Metrology Manager and more.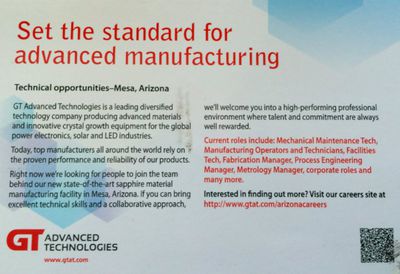 Right now we're looking for people to join the team behind our new state-of-the-art sapphire material manufacturing facility in Mesa, Arizona. If you can bring excellent technical skills and a collaborative approach, we'll welcome you into a high-performing professional environment where talent and commitment are always well rewarded.
GT Advanced has a full listing of job openings at its Mesa facility on its website, though there is no indication when the factory will begin operation. It is unknown what Apple's plans for the sapphire glass will be, but it's possible the company could be examining the material for displays on the iPhone, iPad or perhaps its rumored smart watch product.
Apple uses small pieces of sapphire glass -- which provides superior durability and scratch resistance to other forms of glass -- to protect the cameras on the iPhone and on the home button for the new Touch ID-equipped iPhone 5s, however this would seem to be an expansion of Apple's sapphire glass efforts. A report from last year suggested that future smartphones may use sapphire, a crystalline form of aluminum oxide, instead of more traditional forms of glass.