Apple Details Uses for Sapphire Glass in New Patent Application
An Apple patent application detailing methods of using and mounting sapphire to mobile devices was published today by the United States Patent and Trademark Office, reports AppleInsider. Entitled "Attachment Techniques", the application describes a system in which sapphire could act a display's cover glass, and also gives insight as to how the material could be used to dissipate heat generated by a device.
The patent application introduces itself by describing the difficulty in attaching sapphire to existing materials, and also notes the current implementation of sapphire as a cover for the rear camera on the iPhone. Apple suggests effective methods for using sapphire as a cover glass would involve creating an aperture within a sapphire substrate, and then using a second material with a lower melting point like metal or plastic to pour into the aperture. The joining of the substrate and the filling of the second material would then act as attachment point for other materials that can be welded, soldered, or secured.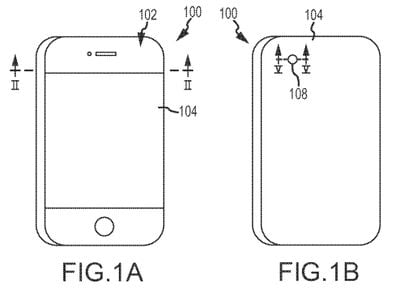 The aperture formed in the substrate may have one or more securing features to help hold the second material within the aperture. For example, the aperture may have one or more tapered sidewalls. Alternatively, or additionally, the aperture may have a notch or step in one or more sidewalls. In still other embodiments, an interior surface of the aperture may be threaded or include a lip or protrusion that serves as a securing feature. It should be appreciated that other securing features may be implemented and, further, that multiple securing features may be used in conjunction.
Apple also describes how sapphire could be used as a heat spreader because of the similarity in the material's thermal conductivity levels to that of metals. Apple further states that sapphire could be attached mechanically and thermally to a processor to dissipate heat.


Presently, Apple uses small pieces of sapphire glass to protect the cameras on the iPhone and on the home button for the Touch ID-equipped iPhone 5s. However, the company has also shown a strong interest in perhaps expanding its use of the material in its products, announcing plans last November to build a sapphire glass manufacturing plant in Arizona. GT Advanced, Apple's manufacturing partner for the plant, also sent out postcards to local residents this week advertising for open positions at the new facility.
A report from June 2013 also stated that Apple experimented with sapphire crystal displays but found them infeasible, with Vertu COO Perry Oosting stating that Apple felt that the material was unsuitable for production in the numbers that Apple required. It was reported last March that future smartphone displays may use sapphire instead of glass, with all major mobile phone said to be considering the use of the material.
The patent application, which was originally filed on July 19, 2012 and published today, lists Dale N. Memering, Matthew D. Hill, Christopher D. Prest, David A. Pakula, Tang Yew Tan, Stephen B. Lynch, and Fletcher Rothkopf as its inventors. As with all of Apple's patents and patent applications, it is unclear when and if the exact technology described will make it into a final product.