iPhone 5S to Include Sapphire-Covered Convex Home Button with Fingerprint Sensor?
KGI Securities analyst Ming-Chi Kuo, who has on a number of occasions offered accurate information on Apple's product plans, has issued a new research note indicating that the iPhone 5S may include a sapphire-covered convex home button housing a fingerprint sensor.
The iPhone's home button has had a concave shape since its introduction in 2007, but Kuo believes that moving to a convex shape would give Apple more space in which to fit the fingerprint sensor expected to be a differentiating feature for the iPhone 5S.
Convex home button creates space for fingerprint sensor; yield to improve. We think that a fingerprint sensor will be placed under the home button of iPhone 5S. However, assembling it could be difficult as the space under home button is limited as it already has to accommodate the Lightning connector, speaker and microphone. Thus, we think the shape of the home button could be changed from concave to convex to create more space for a fingerprint sensor.

Sapphire prevents home button from being scratched. A convex home button could be more easily scratched, so a harder material is required. We believe Apple will switch from plastic to sapphire, whose hardness is second only to diamond. Sapphire would protect the home button from being scratched and the fingerprint sensor from being damaged.
Kuo goes on to note that Apple may have some advantages over its competitors as fingerprint sensors make their way into mobile devices, as Apple will utilize RF and capacitive technology from AuthenTec rather than the common optical recognition used in many other sensors, making for a more robust system unaffected by dust and other contaminants. The iPhone's iconic single home button also provides a natural location for a fingerprint sensor.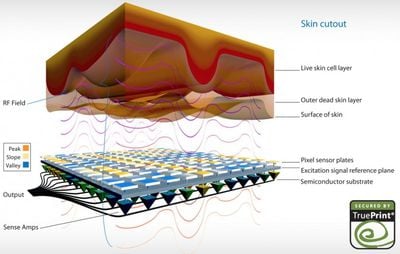 Rumors of a sapphire-covered capacitive home button with fingerprint sensor surfaced in May, but the source for that report had essentially no track record upon which to gauge reliability.
Apple will reportedly unveil the iPhone 5S at a media event on September 10. Based on previous iPhone introductions, the iPhone 5S may launch within just a few weeks after that announcement. Apple is also rumored to be working on a lower-cost iPhone with a plastic shell, with that device perhaps also making an appearance at the September 10 event.