Apple Widens Lead Over Samsung in U.S. Smartphone Race in 2013
Research firm NPD today announced the results of its latest Connected Home Report, showing that Apple increased its share of the U.S. smartphone installed user base by seven percentage points, from 35 percent in the fourth quarter of 2012 to 42 percent in the same quarter of 2013. Second-place Samsung increased its share of the market by a smaller margin from 22 percent to 26 percent, while other major manufacturers saw their shares drop.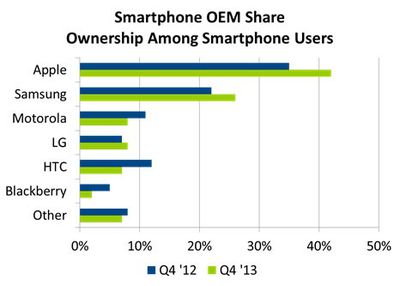 NPD's data, which is based on a survey of roughly 5,000 consumers, is in close alignment with recent data from comScore that showed Apple with 41.2 percent of the market and Samsung at 26.0 percent in the September-November period.
Both firms track installed user base rather than sales, offering a more realistic picture of real-world usage but which is slower to react to shifting market trends given typical handset lifespans. Apple has shown steady increases under these studies over the past several years, even as Android has experienced significant growth. One recent study of trends by Asymco's Horace Dediu has predicted that Apple's share of installed user base in the U.S. will peak at 68 percent in 2017 when the smartphone market hits a saturation point at 90 percent of the country's population.
While Apple's performance remains strong in the U.S. and several other countries, Android has had more success attracting customers in many other markets around the world. Data from Kantar Worldpanel for the August-October period pegged Apple's share of the market in many European countries and China in the 15-20 percent range, with iOS barely registering in some countries such as Spain.