Apple Continues Hiring for Oregon Data Center as Solar Farm Plans Take Shape
Apple has posted three new job listings for the data center the company is constructing in Prineville, Oregon. Apple is seeking two Data Center Maintenance Technicians, along with a Data Center Chief Engineer, a position the company has been trying to fill since early 2013.
While the chief engineer would be responsible for overseeing, testing, and monitoring the data center, as well as implementing new projects, the maintenance technicians would identify and repair potential issues quickly.
Apple has been hiring for the 338,000 square-foot Prineville data center since shortly after construction began in October of 2012, and has maintained a temporary modular data center on the site to house employees. With the new hirings, as well as rumors of a solar farm coming to the site, it appears the Prineville data center may be growing closer to completion.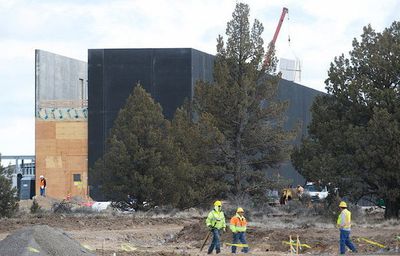 Apple's Prineville data center under construction in February 2013 (Randy L. Rasmussen/The Oregonian)
According to a
recent statement
by Prineville mayor Betty Rope, Apple is planning to add a solar farm to the Oregon data center, just as it has done in
North Carolina
.
Mayor Betty Roppe says those agreements were with Apple. She says the company's enterprise zone agreement defers taxes on improvements to the land for a period of 15 years.

"My understanding is that they will create the solar farm and then they will sell that back to the companies that they actually get their electricity from," said Roppe.
Apple has committed to running all of its data centers with 100% renewable green energy, an initiative that it embraced for its massive Maiden, North Carolina data center. In Maiden, Apple has two operational solar farms, providing 42 million kWh of clean, renewable energy.
According to Apple's environmental site, the Oregon data center is designed to be as environmentally responsible as the site in North Carolina, though at the current time, the Oregon data center is much smaller in scale. While Apple has not specifically outlined plans to install a solar farm in Oregon, it has pledged to purchase renewable energy directly from two local utilities and other local renewable energy generation providers.
Back in September, Apple did look into purchasing an additional 96 acres of land near the Prineville, Oregon site, which could be the home of a future solar farm.
In North Carolina, Apple's massive solar farms generate approximately 40MW along with another 10MW from fuel cells, and at times of peak energy, Apple produces power for Duke Energy, the local utility company. The NC solar farm consists of more than 50,000 panels on 100 acres of land and will likely serve as a blueprint for solar farms in other areas.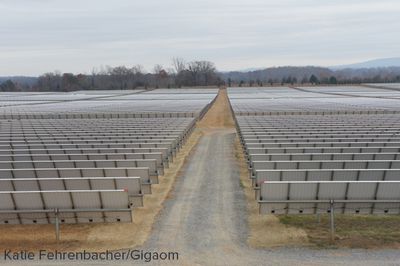 Image of North Carolina solar farm courtesy of Gigaom
Along with the solar farms at its Maiden, North Carolina data center, and the possible solar farm in Oregon, Apple is also
planning to build
a solar farm at its Reno, Nevada data center.