Apple Looking to Buy More Land for Oregon Data Center
Last October, Apple began construction on the first phase of its Prineville, Oregon data center, a project ultimately planned to include two 338,000 square-foot data center buildings on 160 acres.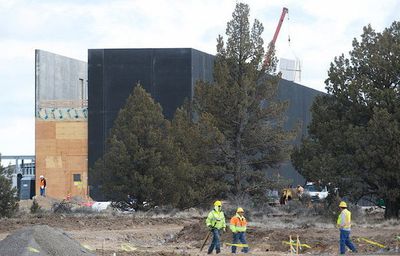 First phase of Apple's Prineville data center under construction in February 2013 (Randy L. Rasmussen/The Oregonian)
But as
reported by the Central Oregonian
late last week and
covered in The Oregonian
today, Apple appears to be looking to add an additional 96 acres to its holdings in the area. While no deal has been struck, officials with the City of Prineville and Crook County are looking to make zoning and other changes to the property so that a deal can be completed quickly.
Though [assistant planning director for Crook County Phil] Stenbeck declined to identify the company behind Project Pillar by name, it's plainly Apple.

The property awaiting transfer is covered by the same tax break agreement that Apple now operates under. And Stenbeck said Pillar previously went by the code name Maverick -- that's the name Apple used last year when it paid $5.6 million to buy 160 acres of Crook County land for its first Prineville data center.
The property in question is also inaccessible without traveling through Apple's property, making it all but certain that Apple would be the only entity interested in acquiring it.
Apple has been on a data center building boom in recent years, opening a large facility in Maiden, North Carolina and moving forward on both the Prineville project in Oregon and another facility near Reno, Nevada.
Apple's push into new data centers comes amid continued growth of Apple's digital stores, as well as growing iCloud services that require significant server capacity for Apple. The company has committed to using 100% renewable energy at its data centers, building its own solar farms and fuel cell facilities in some cases and in other cases sourcing wind and hyrdroelectric power from local providers.