Apple to Build Solar Panel Farm for Reno Data Center
Apple is planning to work with Nevada utility company NV Energy to build a solar panel farm next to its Reno data center, reports GigaOM. Like the company's two other solar farms located in North Carolina, the Reno solar farm will provide between 18 and 20 MW of power and will be built by solar company SunPower.
The Reno site will incorporate the SunPower Oasis C7 system, which includes a set of parabolic mirrors to reflect sunlight onto solar cell receivers, "concentrating the sun's energy by 7 times."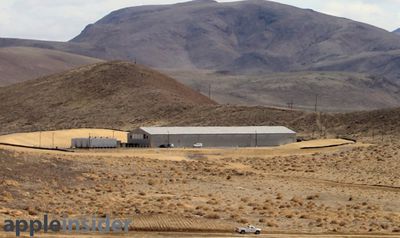 An Early Image of Apple's Reno Data Center
Apple's solar farm plans were approved on June 12 by the Nevada state utility commission, and under the terms, Apple has the option to expand the solar farm in the future. While the farm is under construction, Apple will use local geothermal power to run its Reno data center, continuing its
commitment
to clean energy.
All of Apple's data centers use 100 percent renewable energy, and we are on track to meet that goal in our new Reno data center using the latest in high-efficiency concentrating solar panels. This project will not only supply renewable energy for our data center but also provide clean energy to the local power grid, through a first-of-its-kind partnership with NV Energy. When completed, the 137 acre solar array will generate approximately 43.5 million kilowatt hours of clean energy, equivalent to taking 6,400 passenger vehicles off the road per year.
Apple first announced that all of its data centers run on 100% renewable energy back in March, with its corporate facilities running on 75% clean energy. According to Apple's environmental policy pages, the company has decreased its greenhouse gas emissions by 21.5 percent since 2008 and estimated itself to be responsible for 30.9 million metric tons of greenhouse gas emissions in 2012.