Apple Purchases 200 Acres for Second Solar Farm Near North Carolina Data Center
Earlier this year, Apple announced that as part of an effort to power all of its data centers with 100% renewable energy it would be building a second 20-megawatt solar farm a few miles away from its new Maiden, North Carolina data center. The new solar farm would complement the previously announced 20-megawatt facility that appears to be nearing completion directly across the street from the data center.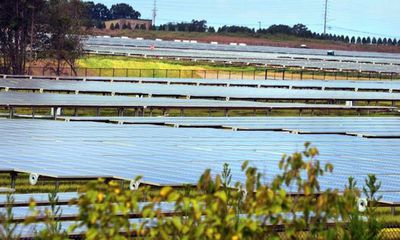 Solar panels at Apple's first North Carolina solar farm (Source: Jeremy Detter/Hickory Daily Record)
The location of the second solar farm was not immediately revealed at that time, but the
Hickory Daily Record now reports
(
via 9to5Mac
) that Apple has just purchased 200 acres land for the solar farm at a cost of $3 million. The plot is located nearly 15 miles from the data center and is being co-located with a new
North Carolina Data Campus
designed to attract other companies in need of data center capacity.
Apple recently closed on the land purchase that includes a tract of 218.885 acres and another tract of 0.251 acres, according to deeds and a plat book at the Catawba County Register of Deeds. [...]

The Conover site is the only other property Apple now owns in the area in addition to the main data center campus and solar farm in Maiden. With the two solar farms and a bio-gas-powered 5-megawatt fuel cell installation, it will be the largest non-utility installation in the country, according to Apple. The company expects to generate 124 million kWh a year, which would power the equivalent of 10,874 homes, Apple says on its website.
Several local governments have banded together to create the new North Carolina Data Campus, which has purchased an additional 55 acres for its purposes at the site. Facebook and Microsoft had reportedly looked at the site as a potential data center, but ultimately selected other locations due to a lack of existing infrastructure. The new data campus entity will work to provide the necessary infrastructure in order to make the site more appealing to other companies.