CES 2014: Apple's Competition in the Smart Watch Arena
CES 2014 has seen the introduction of a slew of new smart watches, spurred on by the popularity of early offerings like the Pebble and the ongoing rumors about Apple's prospective smart watch, the iWatch.
Major companies like Qualcomm, Sony, and Samsung have developed smart watches, as have a multitude of smaller companies. In a market now flooded with smart watch offerings, every company has made an attempt to distinguish its product from the masses, with some focusing on design while others add innovative features.
Our comprehensive list of the smart watches being displayed at CES, which is available below, gives a solid overview of the current state of the smart watch market and a glimpse at the products the iWatch will need to compete with upon its release.
Intel Smart Watch - During its keynote event at CES, Intel revealed its plans to focus heavily on wearables throughout 2014. As part of the presentation, the company showed off a prototype smart watch incorporating geofencing and location-based notifications designed to alert users when a child or family member has left a specific location. The watch was not an actual product, but the company has plans to release a similar device in 2014. (Image courtesy of Engadget)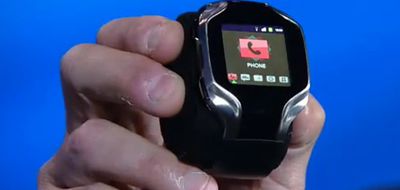 Pebble Steel - Pebble's second-generation smart watch, called the Pebble Steel, retains the current Pebble functionality but features a new design with a stainless steel body and a leather or steel band. It is both slimmer and lighter than the original Pebble and also includes a face covered with Corning's scratch resistant Gorilla Glass. The Pebble Steel lasts for 5 to 7 days on a single charge, is waterproof, and will begin shipping on January 28 for $249. Pebble has also announced an app store that will be available to users in January and introduced new partnerships to bring additional functionality to the device.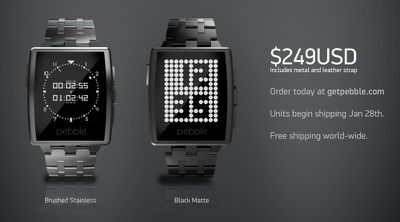 Razer Nabu - Designed by computer peripheral manufacturer Razer, the Nabu smart band is a fitness band/smart watch hybrid. The Nabu is slim like a standard fitness tracker, but it includes two small OLED screens at 32x32 and 128x32, which display information about activity levels and notifications about texts, phone calls, and other social networking alerts. It includes an accelerometer, an altimeter, and a cylindrical vibration motor and lasts up to 10 days on a single charge. Nabu, which ships in the spring, also interacts in unique ways with other Nabu bands. For example a handshake between two Nabu wearers could allow the two to automatically exchange contacts on social networks like Twitter and LinkedIn. Nabu will be available for under $100.



Metawatch META - Metawatch is not new to smart watches, having previously released the both the Strata and the Frame, but it did debut a new high-end smart watch called the META at CES. META is focused on design, with classic stainless steel faceplates and bands available in a variety of styles. While little information is available on the META, it may function like Metawatch's previous offerings, providing users with customizable settings, notifications for calls and messages, music controls, and widgets displaying information like weather, time, and stocks. META is expected in the spring and pricing has yet to be announced.


Martian Notifier - From Martian Watches, the Martian Notifier looks like a classic wrist watch but is bundled with smart watch features, like notification alerts. The Notifier offers custom vibration patterns for different phone alerts including calls, messages, and social networking notifications. It also has a small OLED readout and works in conjunction with the Martian app, which is installed on a smartphone. The Martian Notifier will be available during the second quarter of 2014 for $129.


PHTL HOT - Originally a Kickstarter project, the HOT (Hands-On-Talk) smart watch is being demoed at CES. The watch comes in four different styles, from a basic rectangle to a slightly curved design, and sets itself apart from other smart watches by allowing voice calls to be placed directly from the device. HOT utilizes a directional speaker that is amplified by a cupped hand and it also incorporates an e-ink screen that responds to simple swipe gestures to bring up menu options. It also runs apps and boasts a 3 to 7 day battery life. HOT can be pre-ordered for $152 to $212 and will ship in March.


Archos SmartWatches -Archos, known for its tablets, has just come out with a line of basic, affordable smart watches designed to connect to phones via Bluetooth and deliver notifications. The cheapest $50 model features a 1.55-inch E-ink display with a 1.5 week battery life. A second $100 model includes an 1.8-inch LCD touchscreen with one to two days of battery life and the third high-end model, with a curved E-ink display and a 1.5 week battery life, will retail for $129. Archos will make these available later in 2014.


Kreyos Meteor - Originally an Indiegogo project, the Kreyos Meteor is being displayed at CES this week. The Meteor features a waterproof plastic body and bands in an array of colors, along with a speaker and a microphone that support voice and gesture commands. Four different wrist gestures can be used to activate customized actions and the watch display offers notification alerts. It also includes a built-in activity tracker to measure fitness levels and a removable face that can be placed in different bands, in a belt clip, or a neck lanyard. Priced at $169.95, the watch can be pre-ordered and will ship in March of 2014.


Sonostar - The Sonostar SmartWatch incorporates a 1.73-inch curved touch screen with an E-ink display. Like other watches on the market, it connects to a smartphone via Bluetooth and displays notifications from social networks, calls, messages, and emails. It also connects to sports-oriented apps developed by the company. Priced at $179, the Sonostar SmartWatch will be available for purchase during the first quarter of 2014.


Neptune Pine - Originally a Kickstarter project, Neptune's Pine is a bit different from connected smart watches as it is designed to be a standalone device that makes phone calls and sends SMS messages. Running Android Jelly Bean, Neptune has a 2.4-inch touch screen, a full keyboard, cameras, a complete web browser, and it runs a full catalog of apps. It also includes several fitness-oriented add-ons, including GPS, an accelerometer, a gyroscope, and more. Pine, which requires a SIM card, features eight hours of talk time and can be removed from the band and placed into other accessories. It can be pre-ordered for $335 and ships in March of 2014.


MyKronoz - MyKronoz has a range of Swiss-designed smart watches with varying price points and designs. Its newest and most advanced version, the ZeNano, pairs with an iPhone via Bluetooth and features a 1.54-inch full color LCD screen. ZeNano connects to a set of included earphones and can make phone calls, read texts, record voice memos, accept voice commands, and stream music. ZeNano will be available soon for $130.


ConnecteDevice Cogito - ConnecteDevice, the company behind the Cookoo smart watch, has two new products available at CES: the Cogito and the Cogito Pop. Both watches have standard analog faces, but connect to a phone via Bluetooth and support notifications from calls, messages, and social networks. Notifications can be dismissed right on the watch, as can incoming calls. The Cogito is the more sophisticated version of the watch, while the simpler Cogito Pop comes in a wide range of colors. Both watches incorporate a standard watch battery that does not need to be charged. The Cogito is priced at $179 while the Cogito Pop is $129 and both watches are currently available for pre-order.


As can be seen above, the majority of the smart watches available today suffer from a similar problem: bulkiness. Most of these devices are thick, heavy, and restrictive, with many of the products focused towards a male demographic. Additionally, all of these products essentially perform the same functions – connecting a smartphone to a wrist worn device – with little innovation to be found among them.
The current crop of smart watches give a look at problems that Apple might face with its future iWatch. Creating a design that is functional but unobtrusive and suited to a wide range of wrist sizes is clearly not an easy task, nor is fitting multiple sensors and innovative features into a such a small device.
Rumors have suggested that Apple might deal with some of the aforementioned issues by releasing the iWatch in multiple sizes, and the company is also said to be incorporating many health-oriented features to set the iWatch apart from its competition.
At the current point in time, Apple is reportedly working on overcoming developmental issues relating to the iWatch's screen and battery life, and while it is unknown when the product might appear, rumors have pointed to a late 2014 release date.
Along with Apple, major tech companies like Google and Microsoft are also said to be developing their own smart watch solutions to be released in the future.