Thanksgiving Roundup: Apple Buys Land, New MacBooks in April, App Store Sales, Black Friday Prices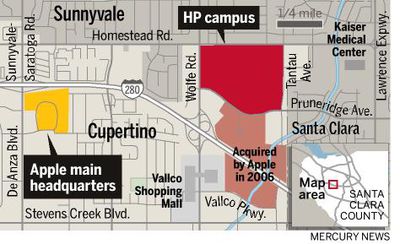 Mercury News
reports that Apple has purchased 98 acres of land in Cupertino which was owned by HP:
Apple's latest acquisition is the longtime Cupertino campus of rival tech giant Hewlett-Packard, the Mercury News learned Wednesday. HP announced over the summer that it planned to move out of that site, which it had occupied for decades, as it consolidates operations at its Palo Alto headquarters over the next two years.
The extra land will be used by Apple to expand their existing Cupertino campus.
Three Guys and a Podcast are claiming that Apple will be holding two special events next year:
- January 2011 - New iPad
- April 2011 - All New Mac Book Pros + Final Cut Pro Update
They don't list their source for the information, so we're not sure how much is speculative, but they claim the MacBook Pro will follow the MacBook Airs move to Solid State Storage and removal of an optical drive.
The Thanksgiving holiday in the U.S. has triggered massive sales in the App Store. TouchArcade has consolidated a massive list of notable gaming sales. Meanwhile, AppShopper offers a running list of every App Store sale as they happen. The Universal App let's you find sales on your iOS device.
Apple Australia has already begun their Black Friday sales with the following discounts:
-A$51 on iPad (8%)
-A$121 on MBP (8%)
-A$15 or 25 on Nano (respective sizes) (up to 12%)
-A$25, 45 or 51 on iPod Touch (respective sizes) (up to 18%)
-A$121 on MBA (only 13") (7.5%)
-A$121 on iMac (8%)
We'll cover Apple's U.S. Black Friday sales tomorrow, which should offer similar savings.