'Yahoo Screen' and PBS Come to Apple TV
Two new channels have appeared on the Apple TV set-top box, with U.S. public television system PBS delivering some of its content through a new channel and Yahoo announcing the launch of Yahoo Screen, a channel for browsing videos such as Saturday Night Live and The Daily Show with Jon Stewart as hosted by Yahoo.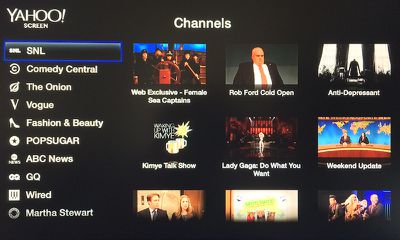 Full access to the PBS app, which includes over 5,000 hours of content, requires users to sign in with a Facebook, Google+, or PBS account, which subscribes them to email updates through their local PBS stations.
Apple has been rapidly expanding the number of content channels available on the Apple TV over the past several months, adding channels such as WatchESPN and HBO GO in June and music video channel Vevo and several Disney channels in August and September. The company is also said to be working on deals with cable provider Time Warner and TV network The CW.