Apple Adds Major League Soccer and Disney Junior Channels to Apple TV
Continuing its expansion of content offerings on the Apple TV, Apple today rolled out two new channels for the set-top box: MLS (Major League Soccer) and Disney Junior.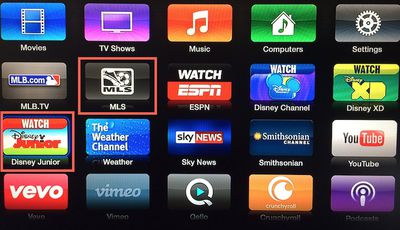 The MLS channel offers scores, standings, and video content from Major League Soccer, while also offering access to the MLS Live subscription program for live video of matches. MLS Live is priced at $24.99 for the season and a subscription can be used not only on the Apple TV but also on iPhone and iPad.
The new Disney Junior channel is similar to Disney Channel and Disney XD offerings added last month. All three channels require authentication through a participating cable provider for access to live and on-demand content.
Today's additions are the latest in a long line of new channels introduced to the Apple TV in recent months. In June, WatchESPN, HBO GO, Sky News, Crunchyroll, and Quello were added, and last month Apple debuted channels for Vevo, the Smithsonian, and the first two Disney channels. Deals with TWC and The CW are also said to be in the works.